Here's a list of FAQ's that should answer some of your more general questions as you prepare for your safari. At African Portfolio we pride ourselves on making sure you are well informed about where you are going and what you can expect while on safari. We want you to be fully prepared on your trip, so nothing will come as an unpleasant surprise, and you can enjoy your vacation to the fullest. Your documents will have specific information that pertains to your customized itinerary.
How to Behave on Safari – The animals may not behave very well, but you should!  Safari etiquette is important for your own safety as well as the enjoyment of everyone on safari.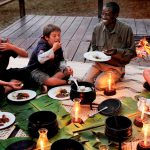 How to Pack for a Safari – Tips on packing for your safari, it may surprise you that it can get very chilly during peak safari season, so layers are the order of the day.
Dietary Needs on Safari? Information on dealing with dietary needs and preferences on safari. Whether you are a vegetarian, diabetic or have a food allergy — most dietary restrictions can be accommodated at the safari camps we book.
Tourist Visas – When, where and how to get them for US passport holders traveling to Africa.
Yellow Fever Vaccinations – Some countries require visitors to get a yellow fever vaccination
when traveling between countries where the disease is present. Find out more about the vaccine and if your itinerary requires you to get it.
Staying Healthy on Safari – Don't panic when you read up on the long list of potential diseases and creepy crawlies that you may encounter while on safari in Africa. Use your common sense and all will be well if you follow some basic advice.
Money Matters – Tips and advice on bringing money with you on your safari.
Staying in Touch While on Safari – Watch out for those roaming charges!  Tips on keeping in touch with family and friends back home while you are enjoying the African bush.

Insuring Your Safari – Tips on why we recommend travel insurance and pre-trip cancellation in particular.
Tips on Tipping – How much to give, when to give and what currency is best to use when tipping.
What to Read Before, During and After your safari – A great reading list for you to download on your e-reader.  Enrich your safari experience and understanding of where you will go, and where you have been.
What is Spoken Where in Africa? – Want to brush up on your Setswana or Swahili before getting on the plane?