For most people, holidays mean spontaneity and freedom from your day to day routine.  It can come as a surprise then to arrive on safari and find your daily routine dictated by the rhythm of the bush and the logistics required to deliver first class service in a remote setting.   Dawn alarm calls, set mealtimes and a ban on solitary walks makes it all sound more like boot camp than Out of Africa. Yet the day is designed to maximize game-viewing success as well as guests' safety and comfort.
The following timeline describes a typical day on safari.  However, in reality, no two days are alike which is one of the most compelling aspects of life in the bush.  There are also variations in the routine depending on where you go on safari. In southern Africa, for example, some lodges prefer a schedule based on longer game activities with two main meals (brunch and dinner) and tea breaks in early morning, afternoon and sundowners on the game-drive. The routine may also vary depending on your location and the scenery and activities available. Seasonal changes also need to be considered. The timeline is pretty consistent except in mid-winter, when it can be so chilly at dawn that even the wildlife rises late.
Safaris may be more structured than most ordinary holidays, but with an understanding of the routine, you can tailor the daily plan to fit your needs (even if you can't arrange the whole day according to your whim). Camp staff is generally as accommodating and flexible as possible. It's fine if you're tired and want to skip a game drive or a meal. If it's pouring with rain at dawn, the game drive can take place later, when the rain has stopped but before it gets too hot again. Additional activities can also be arranged but be reasonable with your requests: your guides have a long working day, from dawn until after dinner, and their breaks are well earned. Ultimately, life in a lodge is centered on you having the most enjoyable and successful safari possible.
5.00 to 6.00 am – Wake up with the animals
Fair warning – this isn't a holiday for enjoying sleeping in. Most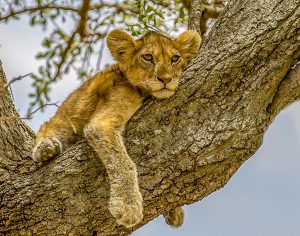 game-viewing activities occur early morning and late afternoon, when the light is rich and animals are not hiding from the searing midday sun. This highly logical behavior forms the basic structure for safari camp life. You'll be woken in your tent or chalet by staff bringing tea or coffee (place your order the night before) and a basin of hot water for washing (if you don't have running water in your room/tent). Alternatively, hot drinks and rusks might be served in the dining area or round the fire before the morning's game drive, walk or mokoro (dugout canoe) activity.
6.00 to 9.00 am – Morning game activities
The guides will show you the best of the area. Be sure to ask if you have any special requests to see particular places or species. Water and soft drinks as well as tea/coffee and snacks are available.  Drink enough to avoid dehydration. On cold winter mornings, the game drive may occur a little later, when the day (and the animals) begin to warm up.
9.00 to 10.00 am – Breakfast
Breakfast is the first test of self-control for the day. Large
amounts of good food will be laid before you, but as safari life is relatively inactive (unless you're on a walking safari), several days in camp can feel like a premeditated assault on your waistline. Expect a buffet of cereals, yoghurts, fruit, toast, and "The full bacon-and-eggs Monty," cooked to order. Usually this is served at the lodge, although some camps, especially in East Africa, will vary the routine by including a bush breakfast. Staff will set this up during your game activity. In southern Africa there is an increasing trend towards having longer morning game activities prior to a brunch, a real feast to see you through to afternoon tea.
10.00 to 12.30 pm – Free time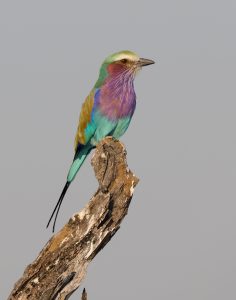 Tempting as it may be, you can't go wandering off into the bush on your own. Most camps or lodges have a small library containing reference books about the bush and wildlife, and possibly novels left by other guests, but it's advisable to take a couple of your own books. You could play cards or use the time for things you don't normally have time to do. This is an excellent time for bird watching, as camps are usually constructed in the shade of trees. Many also overlook waterholes and there may be a hide you could sit at. You'll be surprised how good the game viewing can be at this time. It may seem like a void at first, but you soon appreciate having this free time structured into your day.
12.30 to 1.30 pm – Lunch
Meals are at set times due to the obvious logistical constraints of preparing feasts over a fire in the bush and of keeping prepared food fresh. Lunch usually comprises a buffet of salads, often with hot options, bread baked in the coals and a choice of desserts. Meals are a good opportunity to chat with other guests; safari go-ers tend to have shared interests and often much in common to keep the conversation lively, interesting and educational.  However, if you prefer to dine on your own, camp management will most certainly oblige.
1.30 to 3.30 pm – Siesta time
When the heat haze rises, cicadas screech and the sun is directly overhead, all sane living things head for cover. It's siesta time. If it's really hot and you don't have a fan, try lying beneath a damp sarong to keep cool. Some lodges will have a swimming pool or individual plunge pools to help you cool off. Alternatively, savour the peace and carry on reading and relaxing.  Most tents and chalets have private balconies where you can relax in peace and privacy.
3.30 to 4.00 pm – Afternoon tea
Mid-afternoon is traditional afternoon tea – a more typically British than American ritual, but one you will quickly adopt during your days on safari.  And even in the remote wilderness it's as good as it gets. You're likely to be offered  a selection of cakes and other sweets as well as a spread of savory snacks (as if you haven't eaten much today).
4.00 to 7.30 pm – Game viewing
Evening game drive or walk – a chance to search for a particular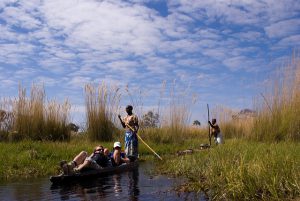 species you haven't yet seen, or perhaps follow the progress of a pride or herd spotted earlier. Guides usually find a scenic viewing spot for the sublime African sundowner. Dusk is short and darkness comes quickly in Africa, so by the time you're driving back to camp, you'll probably be using a spotlight to pick out animals' luminous eyes and shadowy forms. You're likely to return to the lodge about one and a half hours after dark.
7.30 to 10.00 pm – Dinnertime
There'll be about 30 minutes for getting changed and having aperitifs round the campfire. Dinner is usually candle-lit and can be al fresco or within an open-sided dining area, weather permitting.  The dinner meal is bountiful – with usually three courses complimented by wines or other beverage. There may be a choice of two or three main course dishes and most lodges are very good at providing a wide-ranging menu during your stay and for being as flexible to food preferences as possible. The food in most camps is excellent and dietary restrictions are well catered for.  Dress codes vary between camps; smart-casual is usually appropriate but you'll be fine in your safari clothes as well.
10.00 until late – Winding down
The most interesting conversations take place over after dinner
drinks around the fire. Revelry can continue into the night if people are feeling boisterous (staff will stay up as late as you want), but often it feels natural to sleep early, following the rhythms of the bush. In unlit camps, guests may be given flashlights or a lantern for finding their way to their tents, or they may be escorted. By special request, or if there has been an interesting sighting in the area, there may be a night drive. An informed guide may give you a lesson in Africa's incredible stars. Fall asleep to the chorus of the bush. And while animals generally don't pass through camp during daytime, they may well do so in darkness, keeping you guessing as to which spoor (footprints) will appear overnight.