While Cape Town commands all the attention, we encourage you to consider adding a day or two at the start (or the end) of your trip to discover what's happening in Johannesburg. Although South Africa's largest city is vast, it's easy enough to get around by taxi, however, we recommend you let us book you a private vehicle and driver for the day which just means you can maximize your time and experience. Here's a suggested itinerary that takes in the highlights and gives you a real sense of what this modern, vibrant city is all about.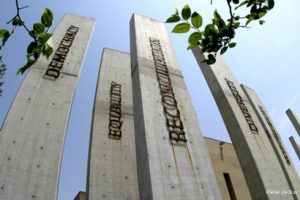 Morning: Visit the Apartheid Museum
This world-class museum explores the history and legacy of apartheid, the state-sanctioned practice of segregation and discrimination based on skin color that began in 1948 and ended in 1994. Film footage, photographs and artifacts tell a story that is in parts distressing and in parts inspiring: the country's peaceful transition to a non-racial democracy is something of a miracle considering the circumstances.
Allow yourself 1.5-2 hours for a visit – there's a large volume of information to absorb but it'll give you an invaluable insight into the challenges modern-day South Africa faces.
If you have the time: Take a 15-minute ride to Constitution Hill, formerly a military fort and prison complex and now the location for the city's constitutional court. There are inspirational and educational exhibitions split over four museums – try to catch a guided tour (every hour on the hour from 9am-5pm) for added context.
Lunch: Maboneng Precinct

Another 15-minute drive (from either the Apartheid Museum or Constitution Hill) will take you to Maboneng Precinct, a once-gritty industrial part of downtown Joburg that has been transformed into a cosmopolitan, creative hub attracting visitors from far and wide.  Stroll around at your leisure to get a good feel for the place and then when you need a break, take time for lunch at Urbanologi, located in the fabulous industrial space of Mad Giant brewery at 1 Fox Precinct (also home to The Good Luck Bar and a fun food and craft market called 1Fox Market Shed) on the western side of the inner city. An innovative industrial-style and Meccano-inspired décor designed by Haldane Martin with large and moody murals by graffiti artist Justin Nomad. The menu has been designed to complement Mad Giant's craft beer so the experience is one of a tasting menu.
For a more casual or quicker lunch, try one of these options:
Head to the bustling hole-in-the-wall Little Addis (280 Fox Street) for platters of authentically delicious Ethiopian food – if you're a vegan or vegetarian you'll be well-catered for too.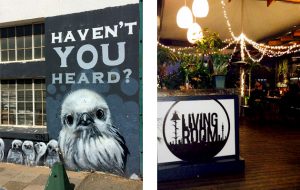 Another popular option is The Living Room, (286 Fox Street, below), a chic rooftop bar/café for light lunches, smoothies and coffee.
Afternoon: Explore Newton and Maboneng
After lunch, continue your exploration of Maboneng, meaning 'Place of Light', as you can easily while away an afternoon exploring this vibrant and very walkable district. Arts on Main is a 100-year old converted warehouse that now houses artists' studios (including leading contemporary artist William Kentridge and photographer Mikhael Subotzky) as well as African-inspired fashion boutiques and art galleries.  Highlights include MOAD, the first museum dedicated to design and a traditional healer's market – said to be one of the oldest in the city.
Situated in the heart of downtown Johannesburg, Newtown is part of the city's creative and cultural hub. In the early 20th century with access to the city's railway, it became the epicenter of commerce with banks, brick companies, fisheries and breweries establishing businesses. With its multiracial diversity, the area was targeted with some of the first forced removals during the apartheid years and significant landmarks such as the Market Theatre, was regarded as the 'Theatre of the Struggle'. Other attractions include Southern African's largest science center, the Sci-Bono Discovery Centre, Museum Africa and popular night-time Jazz venue, Bassline.
Alternative Afternoon: If you are looking for more active sight-seeing, consider these cycling and walking options.
Soweto by Cycle
Get out of the bus and onto a bike with a 2-hour eco-friendly cycling adventure around the township, getting to know the different communities and its history. Visit places such as a former migrant workers' hostel for men – continue to Meadowlands – famous for the forced removals from Sophiatown in the 1950's. Cycle through historical landmarks of the 1976 student uprisings and visit the memorial site of Hector Pieterson. You will also cycle down Vilakazi Street where Nelson Mandela used to live and where Bishop Desmond Tutu has his home. Have lunch at the local backpackers – a delicious traditional African stew, cooked over a fire and served with a chunk of white bread – a Sowetan 'bunny chow'.  Both fun and informative, this is an activity geared for individuals and families who wish to embrace the vibey and friendly street culture of Soweto.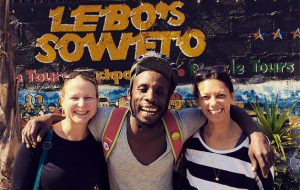 Urban Art – Jozi's Graffiti & Street Art by Foot
This 3-hour walking tour is a fantastic way to discover the inner city with a focus on the wonderful array of public art that can be found in the Central Business District. Public Art is created for public spaces as opposed to art created for a private or public art gallery and the best way to view this is by foot. There is also a unique Graffiti culture whose artwork brightens up the city streets. We also look at the history, present and future rejuvenation of the inner city. This tour includes a specialist walking guide for the inner city
Evening – Rosebank
Head to Rosebank to check out the swanky Marble located in the flashy Trumpet Building on Keyes Art Mile in Rosebank, an area known for its abundant contemporary art galleries such as the landmark Circa Gallery, Everard Read Gallery and Goodman Gallery, a few minutes' walk away.  The rooftop lounge bar and terrace with views stretching out towards the Magaliesberg is the perfect place for sundowners.  Then treat yourself to dinner where star chef David specializes in meat and seafood cooked over an open fire – after all, there's nothing South Africans like more than a braai (barbecue) – albeit this is an upscale version.
Late Night Drink: A ten-minute walk down Jan Smuts Ave takes you to Sin + Tax Bar  (corner of Bolton & Jan Smuts Roads), a sophisticated speakeasy-style establishment. It's behind an unmarked door – of course – and is tiny, but the ever-changing selection of drinks here are phenomenal. Or head for some jazz at The Orbit (81 De Korte Street) in Braamfontein – it's open until 2am from Thursday to Saturday.   Another option for the night owls is Pata Pata City Centre, Maboneng, which is inspired by the 1960s township jazz scene. Pata Pata is decorated with an eclectic selection of second-hand bric-a-brac and big vintage sofas. At night an abundance of candles and live jazz-funk music, creates a simultaneously upbeat and romantic atmosphere.
Weekly Markets
If you're in Johannesburg on a Saturday, don't miss the Neighbourgoods Market  in Braamfontein for an eclectic array of artisan goods and incredible food stalls.
Arts on Main in Maboneng has a market on Sundays called Market on Main (above), also featuring food stalls, along with leather pieces, jewelry, clothing, designer pieces and vintage-style favorites. Both are great places to pick up souvenirs and gifts for folks back home.
Rosebank Art and Craft Market is probably Johannesburg's largest and most well-known craft market, this is a one-stop spot for all your African souvenir needs, from impressive life-size beaded sculptures to must-have wooden carved giraffes. With traders from across the continent you can find the widest range of hand-crafted items such as carved wooden chests, colorful paintings, West African masks, local fabrics, those quintessential Big Five figurines, handbags, leatherware, brightly colored Afro-chic fashion and the must-have Mandela T-shirt. For African souvenir shopping, you won't find a better market than this in Johannesburg. "This is Africa. We Bargain" is the motto of market traders here.
Have only a few hours to spare? …
A quick excursion for those with a few hours to kill between flights, is a fabulous complex of century-old
warehouses which have been converted into studios for African artists, jewelers, furniture makers and galleries.  Victoria Yards has an inspiring feel – old industrial textures, planted with vegetable gardens and fruit trees, pedestrian-friendly and safe.  These are working spaces and not retail stores so you can't be sure who's in, but you may meet artists like Ayanda Mabulu, James Delaney, Benon Lutaaya and Blessing Ngobeni in the privacy of their studios with the option of picking up some last minute gifts before you fly home.