Now with the ever changing ways of travel, we suggest you consider spending more time in Nairobi as there is so much to do in this vibrant city. It's also a great place to spend an extra day to get over jet lag before heading out to the bush. If you are traveling with kids, an extra day in Nairobi is wonderful. Plenty of hands-on experience with the orphaned elephants and giraffe at the Giraffe Center, with a good dose of education about the importance of conservation. All of these attractions are doable in a full day with a private driver which we would arrange for you.
Start the morning with a game drive in the Nairobi National Park
Nairobi is the only city in the world that is gazed upon by giraffe,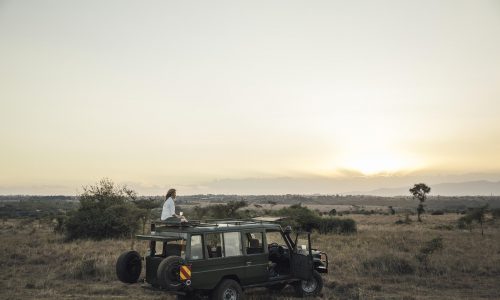 lion and rhino – in the wild. Nairobi National Park was established in 1946 long before the city spread out into its current urban sprawl. Located just a few miles from the city center, it is home to black rhino, lion, leopard, cheetah, hyena, buffalo, giraffe, zebra, wildebeest, eland, hippo and more than 400 species of birds. The park plays a vital role in education, allowing school children the chance to view these animals in the wild, which they otherwise might never have the opportunity to do.
Visit the Sheldrick Orphanage in Nairobi National Park
Dame Sheldrick began raising elephant orphans in the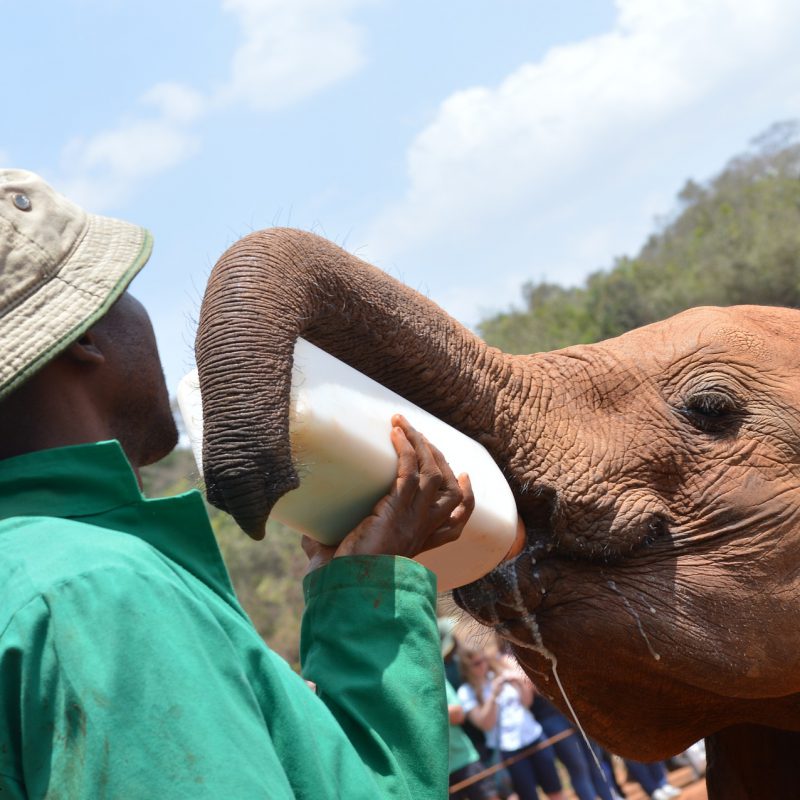 1950's when she lived and worked in Tsavo National Park.  She established an elephant and rhino nursery in Nairobi's National Park in the late 1970's, as part of the David Sheldrick Wildlife Trust. To date the David Sheldrick Wildlife Trust has successfully hand-raised over 150 infant elephants and has accomplished its long-term conservation priority by effectively re-integrating orphans back into the wild herds of Tsavo, claiming many healthy wild-born calves from former orphaned elephants raised in their care. You can also adopt an elephant orphan prior to your visit – or even if you can't get there in person. Click here to adopt…
Have Lunch at the Original Farmhouse on the Land that Karen Blixen Farmed (from Out of Africa fame).
If you have time, also check out the Karen Blixen Museum. The Museum is housed in the very farmhouse where Danish author (Out of Africa) Karen Blixen (Isak Dinesen) lived from 1914 to 1931. The house is located at the foot of the Ngong Hills and was built in 1912 and bought by Karen and her husband Baron Bror von Blixen Fincke in 1917.  Fans of the movie starring Robert Redford and Meryl Streep will love this!
Go to the Giraffe Centre to get a Lick from a Rothschild Giraffe
The Giraffe Centre is a successful breeding center for the rare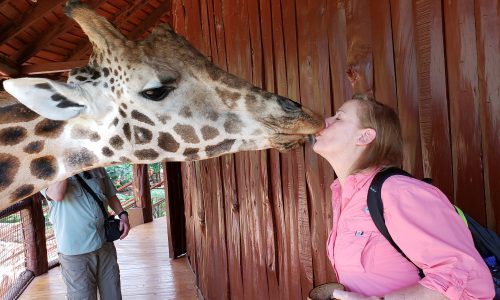 Rothschild Giraffe, found only in East Africa. It was established in the 1970's by Jock Leslie-Melville, who successfully raised a baby Rothschild giraffe at what was then his home, in the Langata area of Nairobi. The breeding program has been very successful, and several giraffe couples have been re-introduced to the wild. An education center to teach school children about conservation has also done important work to raise local awareness about conservation issues. The center is open daily for tours and visits from 9am – 5.30pm.
Art Enthusiasts and admirers will want to Visit Nairobi's Art Galleries. Here are a few of our recommendations:
Circle Art Gallery – Founded in 2012, and based in Nairobi, Circle promotes contemporary art from Eastern Africa. The intention is to create a strong and sustainable art market for East African artists by supporting and promoting the most innovative and exciting artists currently practicing in the region. Through group and solo exhibitions, as well as participation in international art fairs, the gallery has increased visibility for established and emerging artists, both internationally and at home.
One Off Contemporary – The gallery was started in 1994 and aims to represent some of the most established artists in Kenya, many of whom are represented here exclusively, along with associate artists from Kenya, Uganda, Tanzania, Sudan and Rwanda. In September 2011, Departures Magazine listed One Off Gallery in their 'black book' of the ten best things to do in Nairobi: "on a gorgeous five acre property you'll find work by Kenya's more established artists". Indeed the gallery aims to display works of a more sophisticated nature than the usual tourist artifacts which have been the expectation from this region.
Matbronze Art Gallery and Foundry – Matbronze is a family business based in the heart of Kenya.  They strive to capture the beauty of Africa's wildlife in handmade bronze sculptures, in the hope that by doing so, the animals themselves will become timeless. Surrounded by a beautiful wildlife inspired garden, the Matbronze Cafe is a stunning place to enjoy a coffee, lunch, or afternoon tea.
Visit Local Artisans and Craft Workshops 
Ocean Sole – A social enterprise that removes trash from the oceans and coastlines and makes art to support marine conservation, whilst creating employment opportunities in high impact areas. This social enterprise positively impacts over 1,000 Kenyans through the collection of flip-flops and direct employment. They provide steady income to nearly 100 low-income Kenyans. Their aim is to recycle a million flip flops a year, more than a ton of styrofoam a month, and save over five hundred trees a year – by using flip flops instead of wood. They contribute over 10-15% of their revenue to beach clean-ups, vocational and educational programs as well as conservation efforts.
Kazuri Beads – Kazuri means "small and beautiful" in Swahili.  They began in 1975 as a tiny workshop experimenting on making handmade beads. They provide and sustain employment opportunities for disadvantaged members of the Kenya society producing top quality handmade and hand painted ceramic jewelry and pottery with their factory located in what used to be part of the Karen Blixen Estate.
Utamaduni – Originally set up as a unique house of crafts to appeal to tourists, shopping for exquisite African pieces to take home, Utumaduni has become Nairobi's best kept secret and is filled with Africa's finest craftmanship from upcycled jackets and silver jewelry to beautiful wooden bowls and intricately designed rugs. With 18 rooms or shops it truly is a shopper's paradise.
RefuSHE – Through their extensive work with refugee communities in East Africa, co-founders Anne Sweeney and Talyn Good saw that the most vulnerable refugees often fell through the gaps of protection and became invisible. In 2008, they launched RefuSHE as an innovative solution to the global refugee crisis. Over a decade later, RefuSHE has served thousands of women, girls, children, and infants. One of their social enterprises includes training young women to become artisans. Their online shop allows these talented young women to show off their skills and earn an independent living.
End the day with Dinner out 
Kiambethu Farm – Just a short drive from the heart of Nairobi, Kiambethu Farm at Limuru provides a tranquil insight into life on a settler farm.  Situated at 7,200 ft., Kiambethu was bought and farmed by AB McDonell in 1910. He was a pioneer in the tea industry being one of the first to make and sell tea commercially in Kenya – now one of Kenya's largest exports. Five generations have lived on the farm and it is currently run by his granddaughter Fiona Vernon. The farmhouse is set within beautiful gardens surrounded by acres of tea and indigenous forest – home to the Colobus monkey.
Talisman – The Talisman offers superb dining in a friendly setting with excellent service. A live band performs on Saturday, so note, it can get quite festive. The food is cosmopolitan, not African per se — check out their menu. Reservations are recommended.
Cultiva Kenya – Situated in Nairobi a leafy suburb of Nairobi, Cultiva is revolutionizing food habits with its style of farm-to-fork meals. It started as a pop-up eatery in 2019, and now has a loyal following of foodies. "Cultiva means cultivating good practices, awareness, community, health and fun products." Food sustainability and crop conservation are the drivers behind Chef Moscardi's farm-sourced philosophy.  A constantly-changing menu serves international, Asian and South American dishes. "We are not doing something never seen before, but tweaking a bit, presenting differently and creating our own style," he says.
More Tips…
If you are in Nairobi on a Sunday and want to load up on trinkets to bring home, the Maasai Market is located in the Village Market area, an upscale section of Nairobi. Check out The Tribe Hotel across the way, it's a very well designed hotel, and a nice spot to have lunch or a cup of tea on your way back from shopping.   Check out the Aero Club for lunch at Wilson Airport, fascinating for any Beryl Markham or Denis Finch-Hatton fans.
There are so many things to see and do in Nairobi all of which we will be delighted to arrange for you. Give one of our safari specialists a call to start planning your trip.