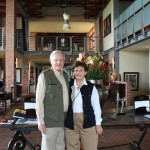 Judy Donahue, our Savor South Africa contest winner, has recently returned from her trip and sent us a lovely letter filled with her impressions of South Africa. Here are some excerpts:
After more than a year of anticipation, we are actually on our way to South Africa! It still seems almost impossible to believe that I was so fortunate to win a contest with such an incredible prize of visiting this amazing country on a luxury tour staying at three gorgeous Tintswalo lodges! I will be ever grateful to my friend, Betty, who suggested that members of our book club enter the contest—I'm so glad I listened to her!
I am glad to be here at Tintswalo Waterfall, and we are warmly greeted and shown to our room, "The Mongolian Pony," overlooking the polo fields. I like the name of the room and hope we will be like those ponies, who are known for their strength and stamina, during this trip.
We dress for the bush, wearing our new insect-repellent safari clothes and hoping we don't look too much like "Great White Hunter" wannabes. Our short flight takes us to Nelspruit Airport and the Manyeleti Reserve adjacent to Kruger National Park.
I ask our guide to please check the bed area and she does so with graceful tolerance. No snakes. I feel like a six-year-old, and my husband is in the next room pretending not to know me.
As we are led to a table on the broad deck overlooking a riverbed, lunch appears: a tasty stir-fry of fresh vegetables, chicken strips, and noodles, followed by a fruit tart—perfect sustenance for our first foray into the bush. A Yellow billed Hornbill lands on our table, cocks his head as if to say "It's about time!" and flies off with a strip of chicken fluttering in his bill like a ribbon.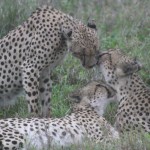 At home we had been cautioned not to get our hopes up to see a leopard as they are solitary creatures and hard to find. However, the other guests had seen one the previous day and were quite thrilled about it. I had a strong case of "Leopard Envy" and hoped that we could be so lucky. Luck was more than with us, for over the next two days, we saw not only the Big Five
(lion, leopard, rhino, water buffalo, elephant) twice, but also many, many more animals and birds way beyond our expectations.

The most exciting find was four cheetahs who had just killed an impala. We were only four feet away watching them eat their prey and feeling as if we were in the middle of a National Geographic TV special.
Tintswalo means,"The intangible feeling of love, gratitude and peace that you bestow upon someone who has given you a meaningful and worthy gift." At that moment, we knew the meaning of that word in our hearts.
On Thanksgiving Day, I enjoyed ostrich for dinner—truly, we are not in Kansas. How will I ever get back to reality? Who will prepare my delicious coffee, juice, fruit, and rusks (biscotti to us) in the early morning? Where will I eat a sumptuous breakfast of Eggs Benedict or Waffles Supreme? And will lunch ever be the same without our friendly hornbill looking for some more gourmet loot?
Here we are in Cape Town, again met by a courteous and efficient African Portfolio guide/driver to take us to Tintswalo Atlantic, nestled at the base of Chapman's Peak in Table Mountain Park right on the shore of the Atlantic Ocean. It is the only lodge situated on the Capetown coastline, and it has magnificent views of the Sentinel, a jagged peak looking out to the ocean.
On the way we spot a whale, possibly two, swimming close to the shore in a leisurely fashion. It seems strange to see the whale(s) so close to the surfers blissfully chasing the waves in their wet suits to protect them in the chilly Atlantic waters.
Most moving of all was to see Mandela's cell and to hear from the lips of this guide, who had been tortured and lost his freedom, the credo they all embraced when finally free: Reconciliation! Forgiveness! Do not take revenge! I felt a sense of awe by this extraordinary generosity of spirit and a sense of shame when I thought of my own pettiness in the face of much less provocation.
It is great fun to stand, along with so many other visitors, at the southernmost tip of this continent and to climb to the heights where the candy-striped lighthouse guides the sailors of today to safety in these sometimes dangerous waters.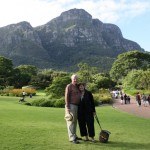 Kirstenbosch Gardens are gorgeous! What a feast for a garden groupie! The setting is stunning with a mountain for a backdrop and the beautiful grounds teeming with an enormous variety of trees, shrubs, and flowers.
Our last morning! After yet another bountiful breakfast, we participate in a Tintswalo Atlantic ritual for departing guests: we are given rocks with our names on them and the words, "We hope all your wishes come true" on the opposite side. We are then instructed to hold them in our right hands and toss them over our left shoulder into the ocean. Sort of a South African Fountain of Trevi penny toss. We like it, and we hope it means we will be back again.

Would you like to take this trip? Contact us!