After a recent trip to Zanzibar, Victoria gained a new appreciation for adding beach time to the end of her safari.  Many of our clients have enjoyed wonderful beach experiences as a culmination of their African adventure, but Victoria tended to stay focused on safari and city experiences (the logic being that one can go to the beach anywhere but can only go on safari in Africa).  Not anymore – from now on you will find her adding a day or three of beach R & R to her African adventures!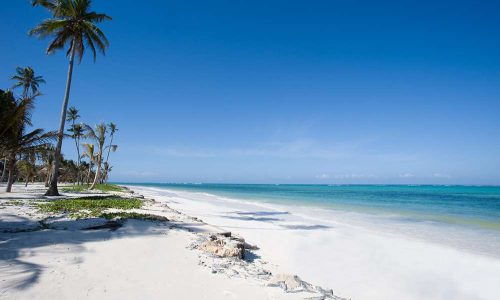 After two weeks of safari, Victoria found it utterly relaxing to switch between the pool, the beach, the water – and an hour on a kayak and some snorkeling for the perfect "workout". Having time to relax with views of the Indian Ocean, was such a welcome change of pace after days of early morning game drives. Even the opportunity to wear something other than the same rotating selection of safari gear was exciting!
Practical things to keep in mind 
Time of year 
Chat to your safari specialist about timing if you want to include the beach. January and February are cyclone season in Mozambique but a great time to visit Zanzibar.  The traditional winter dry season for safari can bring cooler nights (think hat and gloves on safari), but warm days.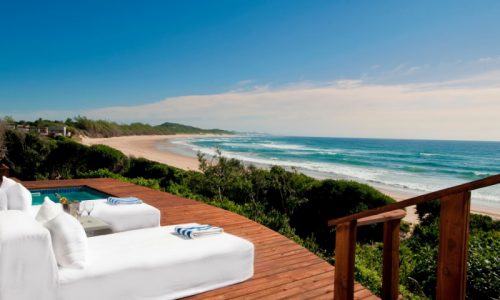 Logistics 
Luxury beach options for safari–goers are wide ranging, on both the continent and further afield. For many of our clients whose vacation times can be limited, the eastern coastlines of Africa are perfect, with beautiful white sand beaches, stunning accommodations and good flight connections from your safari destination.  Kenya offers the most seamless 'bush and beach' combination with spectacular safari adventures and beautiful beach experiences both within its borders. We would recommend a minimum three–night stay at the beach. 
East Africa 
Zanzibar – access from the Serengeti via Arusha or the Maasai Mara via Nairobi.

Most travelers are drawn to Zanzibar, the Spice Island, whose mix of history and culture, add to the tropical island vibe.  Daily flights from the Serengeti make it a breeze to transit from the bush to the beach. 
Serena Zanzibar – with its beautiful location overlooking the water, this delightful property is perfect for guests interested in beginning with an overnight in Stone Town, the old part of Zanzibar city where the confluence of the island's Arabic, Far Eastern and European roots are keenly felt.  Take a tour around the key historical sites, including the former slave market, the spice market and the diverse mix of architecture including the stunning doors.
Zawadi – this beautiful property has 12 private and spacious villas each with a plunge pool and outside lounge area.  Its pool is perfectly located with beautiful views over the Indian Ocean.  Breakfast and lunch are enjoyed at the pool bar, whilst dinner is in the main area, unless you opt for a private dinner in your villa.  The beach is smaller and has an interesting "walkway" to allow you to walk out into the water. 
Breezes – a larger property, at 74 rooms, with more of a resort feel, is located on one of the island's most beautiful beaches, making it perfect for families and couples. It offers plenty of space and water activities can be arranged at the dive center right next to the property.  For a little added luxury, consider its neighbors, the Palms (adults only) or Baraza. 
Matemwe – actually three property options and an authentic tropical island experience.  Families can opt for the three–bedroom Beach House with its own chef and butler, while couples should consider the Retreat for added luxury in the two story villas.  The Main Lodge offers 12 suites, all with ocean views towards Mnemba Island.
Mnemba Island– located a few miles offshore, the island is about a mile in circumference, the property is a barefoot beach luxury dream with luxury bandas (chalets) and spectacular snorkeling.  Relax on your private stretch of beach or enjoy the spa – either way a perfect end to your time in Africa. 
Kilindi – the unique whitewashed private villas are a favorite of our couples looking for an intimate getaway.  Each villa is tended to by its own butler and has a private plunge pool with arched windows affording spectacular views of the Indian ocean. 
Kenyan coast – access to Diani Beach is via a flight from the Maasai Mara.   
Alfajiri Villas – another wonderful option for families or a group of couples looking for some beach time on the Kenyan Coast.  Made up of three villas, Beach, Cliff and Garden, each with unique décor reflecting the region's African, European and Far Eastern history.  Each property comes with a butler who looks after you from start to finish. 
Afro Chic – this delightful boutique property enjoys an eclectic décor and a warm and friendly atmosphere. In addition to relaxing on the white sandy beach or adding some water activities, you might also have the opportunity to witness one of nature's small miracles – the hatching of the sea turtles from their hatchery and the march to the ocean.  
Mozambique 
With non-stop service daily from Johannesburg and 5x week from Kruger to Vilanculos, the coast of Mozambique is within easy reach of Southern Africa's safari destinations. Our Safari and Beach itinerary has you enjoying your breakfast in the bush and sundowners with views of the Indian Ocean. The country's spectacular coastline offers beautiful beaches, lovely accommodations and wonderful culinary experiences, fusing the African and Portuguese influences of the country. 
Benguerra Island – part of a larger archipelago, a 15-minute helicopter ride from Vilanculos over blue waters brings you to the secluded tropical island famed for its pristine white beaches, stunning dive sites and fishing.  Enjoy time here at one of the picturesque luxury resorts, such as Benguerra Island Lodge or Azura Benguerra. 
Alternatively enjoy one of the beautiful properties along the mainland coastline. Santorini Mozambique has 5 luxury suites in the main house, along with The Chapel, perfect for honeymooners, and the three-bedroom Villa de Praia.  In addition to enjoying water based activities (think sunset cruise or desert island picnic), guests can enjoy an excursion into the town of Vilanculos.  
White Pearl – this gorgeous resort, close to the South African border, is tucked away on an exclusive beach, and is also home to one of the richest turtle nesting sites in the region.  Lucky visitors might have the chance to witness the hatchlings' magical first voyage to the ocean, when they are not enjoying some relaxation or an ocean safari.