I always enjoy the long flight to Africa, even sitting in the back of the plane. It gives you plenty of time to unwind from work, watch four movies, and still have time for some sleep! Which is exactly what my family and I did en route to Nairobi. Upon landing, we spent our first night at the lovely boutique hotel, House of Waine located in the leafy suburb of Karen. Our friends had arrived just a half hour before us, and we were generously offered dinner at 10pm and took the opportunity to toast the beginning of our adventure with a nice glass of wine. (Click on any picture for full size!)
The following morning we hopped on a scheduled flight that took us direct to
Samburu, landing at Kalama airstrip, just a 30 minute drive from Saruni Samburu. Our amazing "movie-set" luxury home for the next 3 nights. We must have danced a little too vigorously for rain the night before, because it was simply pouring on arrival, and subsequently the safari vehicle carrying our four teens and 7 year old was stuck in the mud. The adults were too busy marveling at their first giraffe and guinea-fowl sightings to notice they were no longer behind us. The adventure had begun! Our trusty guides pushed, shoveled and finally heaved the land rover out of the thick red mud to the cheers of our children who loved every second of it.
The rains cleared for the rest of our days in Samburu and we saw the unique "Samburu 5": dazzling Grevy's zebra, bi-pedal gerenuk, gorgeous reticulated giraffe, brightly colored
Somali ostrich and the regal oryx. Along with huge herds of elephant colored red from the mud with lots of cute babies, plenty of lion, jackals, scorpions, monitor lizards, flying insects that celebrated the rains, and the brilliant night sky. On our last night we saw a massive shooting meteorite streak across the sky, no one quite figured out what it was or had seen anything like it, but I bet it made everyone's wishes come true!
The people at Saruni Samburu were fantastic with our whole crew, the kids threw spears, learned how to track animals and never had a dull moment. While the adults got to laze around the swimming pool and enjoy massages in between exciting game drives. The location of the lodge is just breathtaking, the type of place you need to keep pinching yourself to make sure you are not simply dreaming the landscape.
The views across the plains and mountains are just spectacular. We could have easily extended our stay to 3 months, but the Mara beckoned and off we flew south …
Our plane landed in the midst of a troop of baboons, and a large herd of zebra. The game viewing never really slowed down during the 4 days we spent in the Lemek and Mara North Conservancies. In fact there was little need to go into the actual Masai Mara National Reserve at all. Why bother when you can literally see two dozen lion, cheetah, elephant, giraffe, hippo, leopard, wildebeest, impala, gazelle, warthog, buffalo and many more creatures great and small within an hour or so of the camp or lodge. We opted for bush breakfasts along the Mara River where we were entertained by huge pods of hippo with the big males jostling for dominance below us. I broke my record of eating more than 26 sausages on a week long safari, I seriously LOVE those British breakfasts. Our lunches were
also set up in the most scenic of spots, under acacias dotted with weaver bird nests. It's truly better than what you see on TV.
We spent two nights at Saruni Mara, enjoyed our wonderful rooms that were surrounded by a large herd of zebra during our stay. The tame Eland that hung around was a huge hit for the youngsters (and adults) they loved petting him every morning! Our final two nights were spent at Saruni Wild where we were surrounded by hyena and plenty of wildebeest during our stay. We loved the intimacy of Saruni Wild and the true feeling of camping under the stars. As everywhere else, the Saruni staff were just great, kind, and so friendly and fun with all of our group. They introduced a Maasai version of hopscotch that the two 15 year old boys played with more gusto than any video game at home (but we are not allowed to mention this in public, so please don't pass it on for fear their friends find out).

But it wasn't just the wildlife and scenery that impressed, we had the most phenomenal experience with the local Maasai here, who we saw dotted around the conservancies grazing their cattle, sheep and goats. They knew our guides who hail from the local community. On Thanksgiving Thursday I had found out that the local market would be in full swing. This really was a local market, second hand clothing and cattle, no tourist trinkets to be found. Just our cup of tea. We hatched a plan to buy the staff a goat, and our families a lamb (roast goat is a local favorite, but not in my clan). The staff would prepare it Maasai style, large chunks on sticks roasted over an open fire and doused with salt water. The market visit was incredibly interesting, but unfortunately a bigwig from Nairobi had bought up all the good goats, so the staff had to make do with a lamb as well. The lodge brought an extra vehicle to pick up the two fat lambs we purchased and while we enjoyed another fantastic game drive, they set to work on our dinner. We feasted that night, and the staff did too – the lamb was delicious ( albeit a bit chewy for our delicate palates) and we generously gave away the head and brains to the askaris.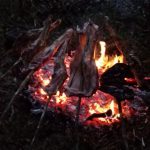 It was the perfect evening, fires were lit, stars were out and we chatted about all we were thankful for, which took us deep into the night.
The guides and staff had to drag us out of the camp on our last day. We had zero desire to leave this little slice of paradise. But we promised to return again, and I have the luxury of knowing that some of our clients will visit soon, so I can live vicariously through them. Our last hours were spent in hectic Nairobi traffic, visiting the Aero Club for lunch ( a "must" for any Beryl Markham fans), the Sheldrick Orphanage which was amazing as always, and a final dash for some seasonal shopping at Utamaduni Craft Center. Nairobi traffic in the rain is no joke, nor are the various security stops en route to boarding the plane,. We were happy to have left the House of Waine three hours before our flight, or we would not have made it in time. We left in a hurry, but our memories of Kenya's sheer beauty, and the warmth of Saruni staff and guides in particular, will linger for much longer.

Those of you heading to Kenya with us shortly, you will have an amazing time. Those of you reading this blog who would like to visit Kenya – do contact us! Here's a sample of the safari itinerary we followed while in Kenya.