Anouk just returned from attending the We Are Africa conference in Cape Town and managed to book-end the trip with extra days touring around Johannesburg, the Cape Winelands and the Western Cape. In her own words…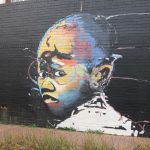 It was a fantastic trip, starting off in Johannesburg at the Apartheid Museum. Always a powerful experience, the Museum is so worth spending an extra night in Johannesburg for. Couple it with a half day Street Art Tour and you really give yourself a treat. I got to explore the Central Business District and hipster area Maboneng with private guide Jo from Past Experiences. Jo personally knows many of the street artists and offers a fascinating glimpse into this dynamic art form that poor and rich can enjoy in equal measure. Lots of great little art galleries and coffee shops in this part of Johannesburg as well. For the crafters out there, Jo also does a fabric tour and we popped into a wonderful fabric shop to buy some traditional cloth which will look awesome in my new house!

Next stop was Cape Town, I stayed at More Quarters (Cape Cadogan), an excellent choice if you want a great boutique apartment hotel in the heart of CapeTown. I spent my first morning hiking up Lion's Head with one of our favorite local guides – Garth. Many of you have met Garth if you've traveled to Cape Town with us in the past. He is a font of knowledge regarding all cultural and historical facts and blends them nicely with US and World affairs for context. As it was Saturday we spent some time at the Neighbourgoods Market in the trendy Woodstock Area. Live music, fantastic gourmet food stalls, art, crafts and beautiful people make quite the scene here. I have to admit, I did go shopping once again.

I also spent a full day enjoying activities in and around Cape Town with a new company called Escape and Explore. I got to try paddle boarding behind the One and Only in the canals, enjoyed a spectacular "pop up lunch" in Constantia at one of the wineries, tried some craft beer at a local brewery, and finished the day off celebrating 25 years of Ellerman House, one of Cape Town's most fabulous small hotels.Their private gallery is worth a stay on its own, let alone the amazing sea views from most rooms.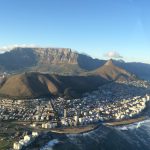 The We Are Africa Conference offered 4 days of mingling with lodge managers, tour companies, safari outfitters, conservationists and basically "anyone who is anyone" in our little industry. It was great to meet old colleagues and friends, make new contacts and get updates on a huge variety of properties, camps and lodges.Ten days later and I am still hoarse from taking so much "shop". Of course it helped that delicious South African wines were served throughout the day, and the conference was held at the Cape Town stadium, a great location that we even got to helicopter to one morning courtesy of the Table Bay Hotel. What a treat coming going to work by heli, I could get quite used to that.

I followed on from the conference with a couple of nights in the Winelands, and managed to squeeze in lots of hotel inspections as well wine-tastings with chocolate, biltong, cheese and turkish delight – only in South Africa! I did cycle to some wineries in Franschhoek which was very necessary after all that dining. The hill up to Mont Rochelle is steep on a bike. I stayed at the Leeu House and Oude Werf, both located in the heart of Franschhoek and Stellenbosch respectively. Making it easy to walk straight into town and browse lovely little art galleries, coffee shops and excellent restaurants.

I also had the opportunity to spend a day checking out Uthando's community projects in some of the Townships surrounding Cape Town – incredibly inspiring and highly recommended for all. We visited a creche with a "libromat" for parents to read to their kids while getting laundry done. An amazing choir serenaded us at a center where women made beaded magic happen. We got to see lush, vital urban Food Gardens and topped it off with a visit to a social center for the elders in the community who gave us all giant bear hugs hello and goodbye. I've never felt so hugged up. And of course singing – there has to be joyful singing when you need to lift your spirits beyond the corrugated metal houses. It's incredibly humbling to meet these old and friendly souls who really suffered through the Apartheid era, but managed to remain dignified and not embittered. You'll be pleased to know that by enjoying a safari with African Portfolio in South Africa, you are also helping support Uthando's projects.

My final two nights were spent at Grootbos Forest Lodge, a spectacular lodge on the coast near Hermanus (about 2 hours from either Cape Town or the Winelands). We saw the first two southern-right whales of the season, clambered into caves and thoroughly enjoyed a 4×4 flower safari learning all about the unique fynbos in the area. Grootbos is not just a gorgeous 5 star lodge, their community work with the Grootbos Foundation is absolutely amazing too and certainly worth checking out if you are lucky enough to get to stay here. It was only appropriate to end my time with a glass of bubbly, inside a cave, watching the sun go down over the Atlantic Ocean, the end of yet another fabulous day in South Africa, toasting to new friendships made on this wonderful trip.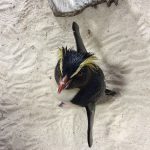 I could go on and on about: Yoga with penguins at the Cape Town aquarium; The Lumineers at the Cafe Roux; Breakfast overlooking Table Mountain; End-of-conference party in an empty cruise ship terminal complete with live music and dancers on stilts; Pairing an 8 course lunch with wines in the Hemel en Aarde Valley…
But it's time to get back to work and make your Africa dreams come true!