Have you always been a fan of nature programs? Do the likes of Jane Goodall and Dian Fossey inspire you? We thought it would be fun to see how we could offer you a little taste of their lives, and get you to walk a few steps in their shoes…
Jane Goodall – Jane Goodall came to Western Tanzania in 1960 as a very young lady to study chimpanzees at Gombe Stream. She spent more than 25 years on the shores of Lake Tanganyika, researching and recording their behavior, inspiring generations with her tenacity and remarkable insights. Jane spends most of her time traveling the world as an activist these days, but still returns twice a year to "re-charge" her batteries. While Gombe remains remote and difficult to get to for our clients, we aim a little further up in the Mahale Mountains, where we highly recommend spending time at magical Greystoke Mahale. It's a wonderful camp where you can spend the days tracking chimps and get close to your inner Jane Goodall. Get inspired by watching this excellent video about the chimpanzees.

Stefanie Powers and Bill Holden – You may be familiar with the lovely actress Stefanie Powers from her starring role in the TV show "Hart to Hart", but she is much more influential these days as a serious conservationist and founder of the William Holden Wildlife Foundation. Stephanie moved to Kenya to join actor Bill Holden, who got her interested in conservation with the work he was doing on his ranch close to the Mount Kenya Safari Club – which he owned. The power couple entertained many Hollywood guests at the Safari Club, and it is still attracting beautiful people. You too can enjoy the Mount Kenya Safari Club, and imagine the ghosts of past Presidents and Princes in the hallways and bar!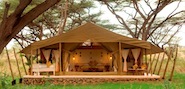 Joy Adamson – Joy Adamson's biographical book and film "Born Free", about the lioness Elsa whom she raised by hand, and then set free, is one of the most inspirational wildlife stories ever written. And there is no better place to evoke the spirit of Elsa, than staying at Elsa's Kopje in Meru National Park. The gorgeous camp blends into the rocky crags of the "kopje" (small hill), built above the site of George Adamson's original campsite. You could also opt for Joy's Camp in Shaba National Reserve, which has been built on the site of Joy Adamson's original campsite. This luxury tented camp overlooks a large, natural spring that attracts endless game to the area around camp.
Dian Fossey – Amazingly enough, Dian Fossey was encouraged to study mountain gorillas, by the same man who inspired Jane Goodall to study chimps in Tanzania — the anthropologist Louis Leakey. (You can walk in his footsteps by visiting the Olduvai Gorge, in Tanzania). Dian Fossey spent 18 years in the dense forests that hug the steep slopes of the Virunga Mountains in Rwanda. She studied the gorilla families every day, and her research showed how beautiful and gentle these giant apes truly are.Without her, there would probably not be any surviving mountain gorillas. She paved the way for future generations to do their utmost to protect the species. Today, her legacy lives on as the mountain gorillas are one of the few success stories of animals previously on the brink of extinction, now slowly growing in population. You can help conserve them, and have the great privilege to spend an hour with them, by taking a gorilla safari in Rwanda. You can also visit Dian Fossey's grave site and pay your respects to this remarkable woman.
Contact us if you are interested in including any of these destinations or camps to your African safari.