The continent of Africa is a big place. It's three times the size of
the USA (and yes, that includes Alaska). You can fit the USA, China, India, Europe and Japan into Africa. So pinpointing a safari destination is important. You don't want to fly into Johannesburg if you wish to spend time in the Serengeti, because they are separated by more than 2000 miles. Some people like the idea of combining a trip to Egypt with a safari in Kenya, just bear in mind that you'll also need to cover a distance of more than 2,000 miles to do this. It's a bit like combining a week in Amsterdam with a week in Tel Aviv. It doesn't make a lot of sense unless you have a lot of time.
Are We There Yet?
In Africa you do not ask how far a place is, you ask how long will it take to get there. Because not only are the distances between cities and countries huge, but the road conditions vary from decent to interesting. As in… "Interesting to see if a four wheel drive can make it through the craters in the road after a recent downpour".
Distances between towns and game parks may not look like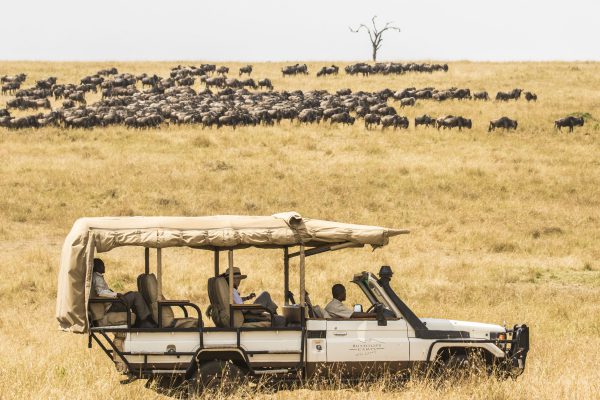 much on a map, but they can easily take all day. This is why we sometimes suggest flying between game parks. For those short on time, we also suggest taking a safari in a single country rather than bouncing around all over the continent. It's not because we want to sell you a more expensive safari, or because we're too lazy to book a complicated itinerary, it's because we don't want you spending all your vacation time just getting from A to B.
Here are some statistics we thought you'd find useful and interesting when planning your African safari.
How Big Is ….
Botswana (225,000 sq miles) — about twice the size of Arizona
Kenya (224,081 sq miles) — more than twice the size of Nevada
Namibia (318,252 sq miles) — about twice the size of California
South Africa (471,445 sq miles) — almost 3 times the size of California
Tanzania (364,900 sq miles) — more than 4 times the size of Minnesota
Zambia (290,585 sq miles) — about the size of Texas and West Virgina combined
Distances Between Popular Destinations
Note that road conditions, goats, cyclists, broken down trucks
and police checkpoints all generally work together to make driving in Africa a much slower affair than in the USA. During the rainy season, some roads become impassable and taking a plane may be your best option. A good average speed in East and Southern Africa would be no more than 45 mph, and much less than that through cities/towns and inside wildlife parks.
Nairobi – Arusha = 170 miles – Same as from Our Office in Old Greenwich to Boston … At avg 35 miles an hour
Nairobi – Johannesburg = 2,386 miles – Same as Vancouver, BC to Ensenada, Mexico …
Arusha/Kilimanjaro – Cape Town = 3100 miles – Same As Boston to San Francisco
Arusha – Dar Es Salaam = 400 miles – Same as Sacramento to Los Angeles … At avg 35 miles an hour
Serengeti – Arusha = 225 miles – Same as New York to Boston … Picture it on dirt roads
Johannesburg – Cape Town = 870 miles – Same as New York to Atlanta
Victoria Falls – Cape Town = 1500miles – Same as Los Angeles to Lincoln, Nebraska
Maun – Windhoek = 500 miles Same as New York to Quebec City
Livingstone – Kruger/Mpumalanga = 800 miles Same as New York to Chicago
Johannesburg – Lusaka = 1000 miles – Same as New York to St Louis, MO
Need more expert help and advice about safaris in Africa? Contact us!