With many travelers, both repeat visitors and first time safari go-ers, heading to Africa this December, we
wanted to highlight unique features and important 'need to know' tips worth keeping in mind during this busy holiday season travel time.  And for those of you contemplating a future holiday season in Africa, make sure to book at least a year, or even two in advance!
December marks the beginning of the long summer holidays throughout sub-Saharan Africa, so both local and overseas tourists book their vacations at safari camps, resorts, in the city, and at the beach.  Therefore the volume of holiday makers is higher than at most any other time of year.  On safari in the remote, beautiful wilderness game reserves, you'll benefit from the peace and solitude you may be seeking to reflect on the end of the year and the beginning of a new decade.  With the magical atmosphere experienced on safari, this will no doubt be one of the most memorable holiday celebrations you'll ever have.  In resorts like Victoria Falls and cities like Cape Town, we encourage you to pack a little extra patience and take the time to plan your tours and activities in advance.  In Cape Town, talk with us about earlier start times if you have booked private touring.  Getting out ahead of the crowds can make a significant difference in reducing wait times.  We encourage you to pre-book restaurant reservations to avoid
disappointment.  Consider visiting the most popular attractions at off hours.  A trip up Table Mountain in the evening is a spectacular experience.  Likewise strolling around the Victoria & Alfred Waterfront at night will be far less hectic than during the day.  If the adventure activities on offer in Victoria Falls have appeal, let us get those confirmed for you now.
Christmas is celebrated by Christians (and many non-Christian friends and neighbors) in most African countries. Goats are in peril this time of year as the preferred Christmas dinner, and churches are filled with joyous song.  From Nairobi to Cape Town you'll see lovely plastic Christmas trees adorned with fake snow. If you are enjoying a safari over Christmas expect to wear paper crowns and enjoy a traditional "British Christmas" celebration, courtesy of the colonial heritage in many countries. You won't see any Kwanzaa celebrations as that's a uniquely North American holiday.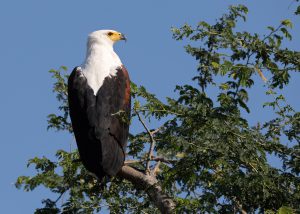 December brings summer rains throughout much of southern Africa, with a short rainy season in East Africa, so expect warm temperatures throughout the major safari and beach destinations, with a chance of a thunderstorm here and there to cool off the day.  But the rains tend to be short and sporadic so the weather will certainly not dampen the holiday spirit. Birdwatching is spectacular this season with safari camps in the Okavango Delta and lodges around the Chobe and Zambezi Rivers in particular, filled with "twitchers" from around the world. Watch out for large telephoto lenses and more excitement around a Pel's Fishing Owl sighting, than a lion kill.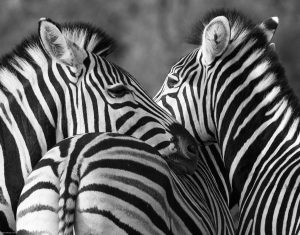 In East Africa the great migration of wildebeest and zebra heads toward the southern Serengeti and Ndutu plains for the green pastures. It's a fantastic spectacle, shared by many happy predators who are spoiled for choice. Pregnant females abound as the incredible baby boom generally starts in February.
Cape Town is at its most festive in December. The holidays are in full swing and the warm weather makes for perfect picnic weather in the Winelands, or at the beach. Summer outdoor concerts are in full swing, most notably at Kirstenbosch Botanical Gardens and New Year's Eve finds night clubs and trendy hot spots packed to capacity.
December Festivals and Events …
24/25/26 December and 31 December – the vast majority of African countries celebrate Christmas, Boxing Day and New Year's Eve. New Year's Day is also public holiday throughout Africa so banks and all government offices as well as many businesses will be closed.
31 December/1 January – Cape Town Minstrel Carnival is celebrated in great raucous style. The parades are huge flamboyant affairs with grand costumes, wonderful marching bands, singing, dancing and more. Needless to say, few Capetonians make it to work on the 2nd of January.
December 2020  – Maasai Olympics takes place in the Amboseli region (Kenya) every two years in December. It was started as a innovative conservation strategy to encourage young Maasai men to show off their manhood by participating in traditional active events (Olympics with a Maasai twist), as opposed to the even more traditional rite of passage – to hunt and kill lions.