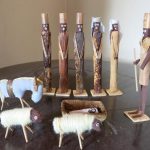 If you are planning to visit Africa in December, particularly around the holiday season, make sure to book at least a year, or even two in advance! December marks the beginning of the long summer holidays throughout sub-Saharan Africa, so both local and overseas tourists book their vacations at the beach and at safari lodges and camps. Christmas is celebrated by Christians (and many non-Christian friends and neighbors) in most African countries,. Goats are in peril this time of year as the preferred Christmas dinner, and churches are filled with joyous song. From Nairobi on down to Cape Town you'll see lovely plastic Christmas trees adorned with fake snow. If you are enjoying a safari over Christmas expect to wear paper hats and enjoy a traditional "British Christmas" celebration, courtesy of the colonial heritage in many countries. You won't see any Kwanzaa celebrations, that's a uniquely north American holiday.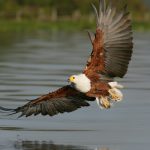 December brings summer rains to much of southern Africa, with a short rainy season in East Africa, so expect warm temperatures throughout the major safari and beach destinations, with a chance of a thunderstorm here and there to cool off the day. Birdwatching is spectacular this month, the Okavango Delta camps, and lodges around the Chobe and Zambezi rivers in particular, are filled with "twitchers" from around the world. Watch out for large tele-photo lenses and more excitement around a Pel's Fishing Owl sighting, than a lion kill.
In East Africa the great migration of wildebeest and zebra heads toward the southern Serengeti and Ndutu plains for the green pastures. It's a fantastic spectacle, shared by many happy predators who are spoiled for choice. Pregnant females abound as the incredible baby boom generally starts in February.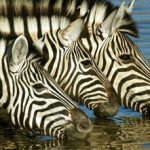 Cape Town is at its most festive in December. The holidays are in full swing and the warm weather makes for perfect picnic weather in the Winelands, or at the beach. Summer outdoor concerts are in full swing and New Year's Eve fills up all the clubs and hot spots around town. If you plan on celebrating the holidays in Cape Town, dinner reservations are a "must" at least 2 months out at the more popular restaurants.
December Festivals and Events to Keep in Mind…