As a general rule, the minimum time we recommend for a safari is 7 days. That's not including flights to and from the US, so you should count on being away from home at least 9 days. Why spend a whole week or more on safari? Well, there are several reasons…
1. Exploring Different Camps/Parks. A minimum of 7 days allows for travel to at least 2 different camps while you are on
safari. Staying at different locations increases your chance of seeing as much wildlife as possible. It also allows you to experience different landscapes and national parks while you're on safari. Getting from one camp to the next will often require quite a drive, or a flight, so you want to make sure to have at least two full days of wildlife viewing at each location. Distances between national parks may not look great on a map, but in reality the quality of the roads make for slow going. There are also markets and towns you may wish to stop into on the way. A dab of culture mixed in with your wildlife viewing is highly recommended. Spending at least three nights at one camp will also give you some time to relax during the midday "siesta" between your morning and evening game drive. Getting up at the crack of dawn, coupled with the excitement of seeing elephants, lion and giraffe can be tiring, and this is a vacation after all!
2. Adding on Cape Town? If you're planning a safari in Southern Africa, we highly recommend a stop over in Cape Town. Ideally, you should add an extra four days to your itinerary for Cape Town. This will give you the three full days you need to explore: The City & Table Mountain; The Peninsula & Cape of Good Hope; and the Winelands. South Africa actually has quite a few options beyond a traditional safari that are worth extending your trip for. A luxury train ride on the Blue Train, or a drive along the Garden Route are two popular add-ons, and both require an extra 3 days at a minimum.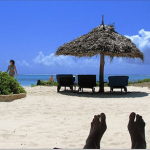 3. Adding Beach Time? If you're in East Africa and want to combine your safari with a little Indian Ocean paradise, we recommend at least 3 days. Most of our clients will fly to either Kenya's coast, or to Zanzibar directly from their safari so factor in half a day travel to get to your sun lounger. For those heading to the lovely Seychelles Islands, add on at least 5 days to your vacation. If you are on safari in Southern Africa, most beach add-ons will take you to either Mozambique or Mauritius, and we also recommend at least a five night extension due to the added travel time.
4. Adding on Victoria Falls? We highly recommend you visit the Victoria Falls when enjoying a safari in Southern Africa. There is so much to do besides enjoying the awe-inspiring Falls themselves. We suggest at least 3 nights here so you can spend a full day rafting, canoeing, or swimming, swimming in Devil's Pool, and still have enough time to enjoy a sundowner, helicopter ride, or a walk with lions (we did mention there was a lot to do!).
Please contact us for more information and let us help you plan your perfect safari!