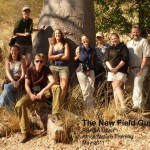 Christian Sperka, a renowned wildlife photographer will be leading a photographic safari for African Portfolio this July. He just completed a four week intensive safari guide course in South Africa's Limpopo Province with Africa Nature Training (ANT). We thought it would be interesting to ask him about the experience.
AP: Where did you take the guiding course?
Christian: I took a 4 week course, in a private game reserve on the Limpopo River in northern South Africa. The game reserve was partly connected with a "Big Five" area, which gave us experience in how to guide in a "dangerous" habitat. Part of the reserve was considered "non-dangerous", so we could walk and study without worrying about the lions and buffalo.

AP : How did you prepare for the course, were there any requirements you needed to fulfill before taking the course?

Christian: No qualifications are necessary. The course was an accredited FGASA Professional Field Guide Course. You become a member of FGASA and they have set textbooks that you get beforehand. We had a group of twelve people from all over the world. Some people were doing it to start a career as a safari guide, others just for a unique working vacation. I wanted to get qualified to be able to lead my own photo safari tours.

AP: What was a typical day like in the field?

Christian: Most of the days are quite intense. It starts with a 6.00 am wake up call. By 6.30 am the group was split into two. Every day half the team goes for a bush walk with a trainer, the other half goes in a safari vehicle for a game drive. Basically the next two hours is spent simulating game walks and drives. By 9 am everyone is back at the lodge and the lectures begin with a break for brunch at 10.30 am.


Lectures cover everything from rocks, soils, trees, insects, spiders, snakes, amphibians, birds, and mammals. You're learning something new everyday, and most importantly you're learning how they all interconnect. So even if you think you may not be interested in learning about grasses, once you find out what eats them, and what role they play for an entire ecosystem, it all becomes fascinating.
The lectures are over by 1 pm. There's a break to catch up on some rest, laundry, and to continue studying.  At 3.30 pm it's time to head back into the bush for more hands on experience walking and driving. The groups are back again at around 5.30 pm for sundowners, dinner and a few hours more study time, before heading to bed. The next day, it starts all over again. There's very little time off, just a couple of days to study before the final exams the last week.
AP: Given your previous experience, what did you learn that surprised you, or was new to you?
Christian: The understanding of how it all fits together, and why everything in the puzzle is important. In the last few years, I've spent more than 200 nights on safari and I was just amazed at what I learned in just 4 weeks. It really brought home to me why it's so important to preserve the whole ecosystem, not just one little part of it. For example, if you kill a large number of crocodiles because they are menacing and bothersome to people washing or bathing in a river, you disrupt a whole food chain. And that can have more serious repercussions. Because crocodiles feed mainly on catfish. So the number of catfish will increase with a reduction in crocodiles. This leads to a decrease in tilapia, a fresh water fish, that catfish love to eat. Now tilapia is very important, because they like to feed on mosquito larvae. Without the tilapia eating mosquito larvae, there are more mosquitoes around, and as we all know, that means more malaria, dengue fever and other diseases. It was this realization that everything is connected through food chains and webs, that was just eye-opening.
AP: Did you have any exciting/frightening encounters with wildlife during the course?
Christian: Well, you are quite safe because you are with very well trained guides. So it's more interesting than dangerous.
But at one point, we were learning basic first aid and CPR at the camp. One of the instructors came running in to get help with a Mozambique Spitting Cobra that had been spotted in the camp. I grabbed my camera and ran off to have a look. We got the cobra, but before we could bag it to let it loose in a safer location, we had to "tire" it out. That meant lots of tricky maneuvering with a stick so the cobra got rid of its energy, while we were trying to stay clear of it. I got the most fantastic photos and it really got my adrenalin pumping.
AP: After a course like this, can you get a job as a safari guide?
Christian: Yes, this is the basic qualification (FGASA Level 1) that all guides need to get to be able to start working at a lodge as a guide. But you need to take other courses if you want to guide in a "big five" area, take clients on walking safaris, and other specialized guiding activities. And of course, you need to get on the job training before you lead a group on your own. Besides this qualification, you need a public transportation certificate and also an official government qualification to handle a firearm. If you are in a "big five" reserve you have to have a rifle in your vehicle, or on you, at all times.
AP: Once you finished the course, would you feel comfortable guiding anywhere in southern Africa, or is the content focused mainly on South Africa?

Christian: Yes, this type of training is sought after by many lodges in Botswana, Zimbabwe and Namibia too. Those countries don't all have these programs available, so its kind of the standard qualification in Southern Africa.
All photos © Christian Sperka – taken during the Field Guide Training Course