We're very excited to be able to offer our African Portfolio clients an exclusive safari with renowned wildlife photographer Christian Sperka. We met Christian 3 years ago at a charity auction and immediately fell in love with his work. If anyone has been to our office, our walls are adorned with his spectacular wildlife prints.
About Christian Sperka
Christian is a German-born photographer who currently resides in Nashville where he has a gallery. He has an extensive library of wildlife portraits and conducts photo workshops on African safaris. He is the resident professional photographer at the Nashville Zoo where he teaches classes for amateurs and professionals. Christian is a passionate animal conservationist and has been photographing Africa's wildlife for over a decade. Browse through some of his work by clicking here.
About our Exclusive Photo Safari – July 1 – 5, 2011
African Portfolio guests will join Christian Sperka at the Waterbuck private lodge at Kings Camp in the Timbavati Private Game Reserve. Christian will be hosting workshops and also join the group in the open-air vehicles during daily safaris in the bush.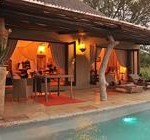 Just imagine the coffee table album you'll be able to show off! See more details about the safari itinerary….
The Timbavati reserve covers about 60,000 hectares of pristine African bush and is part of the world-famous Kruger National Park. The Kings Camp offers the ultimate in a safari vacation, featuring an air-conditioned four-bedroom private villa with a personal butler and chef. The camp is situated on a dry river bank and affords great views of game.

Why Take a Photo Safari?
Animals wear camouflage and move quickly. Roads are bumpy and the African sun is bright, very bright. All of these factors really affect the amateur photographer's ability to take good wildlife shots. There's nothing more disappointing than seeing a breathtaking cheetah on the run, and only being able to show your family back home a blur with a tail. Christian will be offering workshops that will focus on how to shoot animals in the wild, in flight and on the run, regardless of skill level. He recommends using a digital SLR camera with at least a 300 mm lens to get the best results.
All wildlife images © Christian Sperka