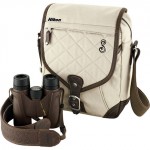 Finally after ten years, and three different pairs of "cheap and compact" binoculars that have caused all kinds of frustration, my new year's resolution is to decide on and invest in a "decent" pair of binoculars before my next trip. Choosing the right one is becoming a real challenge though. My motto in choosing a safari itself is always: "You get what you pay for, so find out what you're paying for." and I think the same applies in deciding on binoculars.
Aesthetics: The look and feel of a piece is as much a part of our decision as the features and specifications of our equipment. (And ladies would you know – there are even binoculars that have been specially designed for us.)  Knowing what you like is the easy part though, having a basic understanding of the rest will help you make an informed decision.
You've seen those numbers separated with an "x", on the side of binoculars for example; 8×32 on binoculars… Let's look at what they mean.
Magnification: The first number indicates the magnification power of the binocular. With an 8×32 binocular, objects appear to be 8 times closer than with the naked eye. However – the stronger the magnification, the more shaky the image becomes. Typically magnification much over 10x requires a tripod, but  some high end models come with built in image stabilization.
Objective Lens: The second number pertains to the diameter of the front lens. The larger the aperture of this (objective) lens, the more light enters the binocular, and the brighter the image appears.
Field of view: is a combination of magnification and the angle of the lens and eyepiece. Greater magnification means a smaller field of view while a wider angle allows a greater field of view, which is what you want when you're watching a cheetah on the run, or a fish eagle in flight, but in my experience magnification and image stability are the more valuable features on safari.
Durability: Some of the very sophisticated higher end pieces are going to be ruined or at least need repair after a fall, while others are waterproof, fog-proof, shock-proof and of rugged construction with rubber shells.
All this being said, please don't forget to sit back and simply take it all in once in a while. The true experience of  Africa is not found through a lens or a view finder. Enjoy every moment in Africa to the fullest extent and with all your senses.