All of us at African Portfolio would like to wish you a very happy and prosperous 2012. We hope it brings you many travel adventures to nourish the soul.
2011 has been a wonderful year for us and we've been lucky enough to have visited: South Africa, Zambia, Zimbabwe, Zanzibar, Kenya, and Botswana. We've discovered new lodges, restaurants and camps that we can't wait to share with you. Here are some of our personal highlights from this past year:
Diane – "This year, my two brothers, their wives and children (12 in total) decided to forgo the annual Christmas holiday in favor of an African safari. Since we at African Portfolio pride ourselves on creating great family safaris, I knew the pressure was on! The adventure started in Cape Town where one of the highlights was walking from the Cape of Good Hope to the Cape Peninsula.
From Cape Town, it was on to Victoria Falls where bungee jumping, the bridge slide and sunset cruising were the order of the day while sampling the local cuisine and mbira music making were on the menu at night. And if that wasn't enough excitement, with the spectacular setting of the majestic Falls in the background, my nephew TC proposed to Katie.
The adventure kicked into high gear at Makalolo Plains in Hwange (Zimbabwe's largest National Park) where the game viewing was all a first time safari go-er could wish for, including a pride of 15 lion.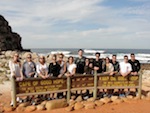 From the plains of Hwange to the riverine forest of the Zambezi Valley, the safari continued at Ruckomechi Camp, situated along the Zambezi River in Mana Pools, "my little bit of heaven". We enjoyed day and night game drives, walking safaris, boat cruises and canoeing. The youngest girls proved to be the most distinguished anglers while the boys preferred to take up a paddle for better view of incredibly close crocodiles and extremely loud hippos.
What was most magic of all was the privilege of being surrounded by pristine wilderness sharing these adventurous experiences together. No phones, no computers, no sms – just old fashioned conversation, story-telling, and laughs to last a lifetime!"
Also check out Diane's idyllic stay on Mnemba Island, another highlight!
Yvette –
"I am as certain as ever that when it comes to scenic flights over the mile-wide Victoria Falls, I prefer the microlight experience over the helicopter flight. It's less noisy, lower, and slower and just generally more relaxing since one doesn't need to hold on to a camera. (There is one mounted on the frame for taking pictures like this).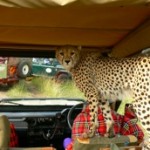 How could I ever forget that amazing moment in the Masai Mara when a curious cheetah cub leaped right inside our vehicle. She was clearly just curious, and we hadn't done anything to encourage or invite her, but perhaps because David and I were alone in the land rover, she seemed to take the opportunity to determine for herself, what it was everybody was always
coming to look at…"
Susan –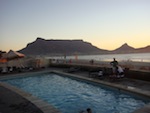 "I went to South Africa in March for my niece's wedding, mostly Cape Town. They were married against the stunning backdrop of Table Mountain. Ten days of family, gorgeous Cape Town, great weather, good food and wine, it doesn't get better than that!"
You can see more highlights from Susan's trip here and get some great insider tips on where to eat, stay and play in Cape Town.
Shelley –
As the newest member of our team, Shelley's highlight was of course joining African Portfolio! Shelley has traveled all over the world, but Africa has always been her passion. She is looking forward to sharing her expertise and enthusiasm for safaris throughout the continent, cultural tours in Morocco, and her deep knowledge of the Indian Ocean Islands. Shelley is also responsible for bringing the sunshine a little closer to home during the winter months as a Caribbean island specialist.