Cape Town is one of our favorite cities and a component of many Southern Africa itineraries. We love featuring the city on our blogs such as a perfect day in Cape Town, Family Friendly restaurants or Off Beat Activities, as it offers such a vast array of options. The feedback from clients about our tour guides is superb – "highly knowledgeable", "warm and friendly", "kept my kids engaged", "entertaining" are just some of the comments.  We thought we would each share some of our own favorite experiences with you.
The Leopard Bar at 12 Apostles
It may not be trendy but in my opinion, it's a classic and considered somewhat of an institution by the locals.  So as a tourist, it's a fantastic opportunity to mix and mingle with Capetonians or sit quietly on your own, enjoying the live music but most especially the spectacular view.   Watch the sun go down over the Atlantic Ocean with a completely unobstructed 180 degree view with your favorite cocktail or glass of wine in hand.  Every Friday they offer a gin-making experience, where you craft your own gin in The Gin Lab, featuring a variety of locally foraged botanicals.  You can sip on your gin and tonic and snack on delicious canapés while the talented mixologist introduces you to the wonderful world of gin.
 Kalk Bay Harbor Hike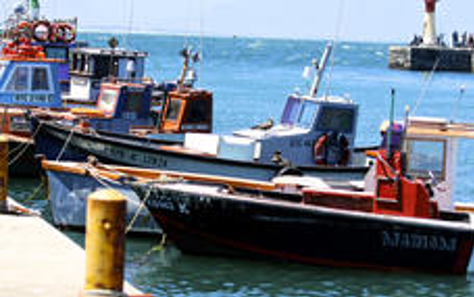 I thoroughly enjoyed my morning exploring the quaint little fishing town of Kalk Bay, much loved for its bohemian feel, quirky shops, great restaurants, and the working harbor.  We stopped at the local coffee shop for a take-away latte and hot, homemade scones and then strolled along the pier, watching the boats coming in and out and chatting with the entertaining fishermen about the catch of the day – and other tall tales.  Just a short hike out of town took us toward the mountain through forest glades, with milkwoods and fynbos and an amazing variety of birds.  Maybe not one of the top ten for most tourists but it is a wonderfully authentic experience.
Veld & Sea – Wild Botanical Experience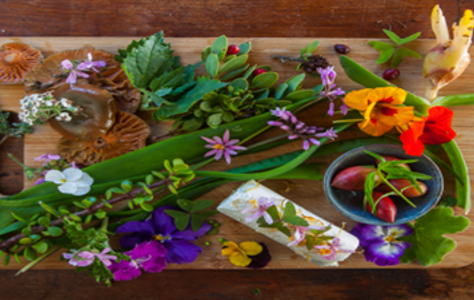 In all the times I have visited the Cape Peninsula over the last 25 years, I had never discovered this little gem at the Good Hope Garden Nursery.  Their guiding principle is "on land, at sea, in forests and mountains, there is food all around us, we just have to open up our senses and reconnect."   It's a women-owned and operated business that educates, inspires and delights in the most natural and beautiful surroundings. They offer seasonal and sustainable foraging classes and workshops – or as I did, the opportunity to participate in fun and festive activities such as making your own gin cocktail from botanicals that we collected from the nursery.   They were shaken, stirred and cooked with multiple taste tests as an essential part of the process. How can that not be an experience to remember?!
Two Oceans Aquarium
One of my favorite Cape Town experiences was doing yoga with penguins at the Two Oceans Aquarium on the Waterfront during a travel conference. We managed to strike some poses in front of the jellyfish exhibits and watch the penguins take their morning exercise. It's not always possible to get the aquarium to open an hour early for a little yoga, but they do offer interactive options with the penguins. These aren't the African penguins you may enjoy at Boulders Beach, but the crested  northern rockhopper penguins, rescued from various beaches in and around the Cape. Sailors sometimes pick them up from their natural habitat much further south, and then abandon them once they get to Cape Town.
Taking to the skies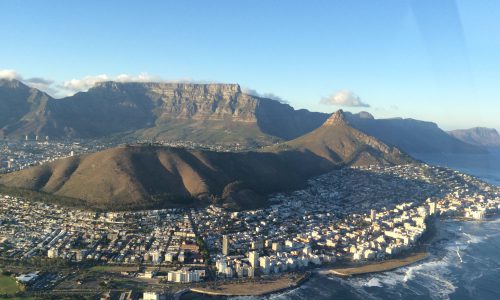 Another highlight was a helicopter ride from Cape Town to the Winelands. It's magical flying over Table Mountain, cruising along the Peninsula looking out for both whales and sharks (you can see them if you are lucky!) and then landing at a gorgeous vineyard for some wine-tasting and delectable food. If you've never been in a helicopter, this is a wonderful experience and fairly inexpensive compared to doing something like this in other parts of the world. The views are spectacular, and even though I get nauseous just looking at a little plane, helicopters don't give me motion-sickness at all. We can easily plan this activity for you in advance, or head to the Waterfront and pop into one of the travel shops there if you want to treat yourself "on the fly" .. get it?
Neighbourgoods Market
If you are lucky enough to be in Cape Town on a Saturday, you should do yourself a favor and head to the Neighbourgoods Market in Woodstock. The food is delicious, the bands are entertaining, people watching is awesome and the art galleries are superb.  A quick Uber or taxi will get you there and back.
Sundowner
My favorite place for a Cape Town sundowner has to be along Bloubergstrand. This lovely stretch of beach offers the best views across the Table Bay, with Table Mountain framed by a perfect sunset. Watch out for windy days, but when the weather cooperates, it's awesome. Blue Peter Hotel is a popular spot, often with live music.
 Table Mountain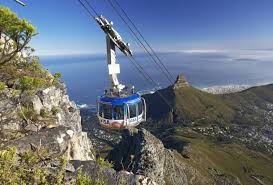 One of my favorites and popular with clients is the half day Rise and Shine hike up Table Mountain, this is for those who are a little more adventurous to enjoy the views as well as the adventurous climb. Stunning views of Cape Town to Camps Bay as well as the 12 Apostles can be seen from this hike which offer you the chance to soak in the beauty and some great photographic opportunities.  Our guides will ensure that you don't get lost and provide great information on the Cape Flora Kingdom's dramatic flora, including the famed fynbos botanicals.  Returning to sea level via the Table Mountain cableway is a six-minute ride, with 360 degree views, thanks to the cable car's rotating floor.
Constantia
Don't have enough time to visit the Cape Winelands for a day? Consider a quick trip to Constantia and Groot Constantia Winery only 20 minutes from Cape Town, nestled in the fertile Constantia Valley. It is one of the oldest wineries and is a must for the whole family.  Have a bite to eat at one of the two restaurants before exploring the museum, indulge in the wine and chocolate pairing or a wine tasting! Groot Constantia features one of the world's top wines Vin de Constance…an excellent dessert wine!
Societi Bistro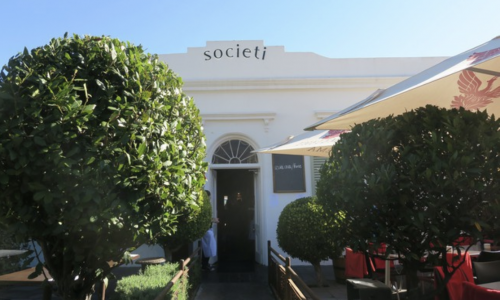 Looking for a restaurant that is local, casual and informal? Societi Bistro is the perfect place for this and one that we all love. A place to savor a simple yet delicious meal and enjoy the company of family and friends, for me this is one of the reasons I love this restaurant.  This relaxed Italian and French bistro offers something for everyone with the a la carte menu and extensive wine list. If you are a group of 8, you can prebook a set menu, and a table comes with a view of Table Mountain – the perfect backdrop for your dinner in Cape Town!
Robben Island Museum
One of my favourite experiences in Cape Town was visiting Robben Island, where Nelson Mandela was incarcerated for 18 of his 27 years in prison.  While you are with quite a large group, it is utterly worth it. I loved the boat ride out to the island (sit at the back for a photo op with incredible views of the city), and the prison tour, conducted by ex-political prisoners who weave their own histories into the guided visit. The visit also includes a tour around the island, where you can see the dwellings of former residents – the island was at one time a leper colony and also housed a whaling station. Other points of interest include military bunkers, the Robert Sobukwe house and the quarry where prisoners worked every day.
Lion's Head
Hiking Lion's Head is something I always enjoy when I'm in Cape Town! I love that the trail wraps around the hill, affording 360 degree views as you meander along and that the majority of hikers are Capetonians out for their Sunday stroll or evening walk. On one trip I had the fortunate luck of witnessing a proposal! The final climb is a little challenging, including a "ladder" made of rungs hammered into the rock face, but worth it for the wonderful views of the City Bowl and Camps Bay.  Bonus – Table Mountain serves as the backdrop for the photographs!  We enjoyed the sunset on the descent, but early risers can witness a beautiful sunrise.
Black Sheep
A Cape Town staple, one of my favorites is still Black Sheep, in the Gardens neighborhood.  Menus are large chalk boards – when a item runs out, it is simply erased off the board – and features classic farm to table cuisine, using fresh ingredients to create flavors prevalent in South Africa's varied cuisine, all in a lovely setting with a great vibe.
One of my most memorable experiences took place shortly after enjoying a gorgeous picnic on a beautiful spot on the Cape Point peninsula (something we love to surprise our clients with).  Having finished this divine treat, with dramatic views of the coastline, we stepped away from the picnic blanket for a moment to take some snaps of the insanely gorgeous backdrop, only to spot a small troop of baboons (fortunately they did not see our picnic – my clients were not so lucky recently).  They paid no attention to us, but we got an eyeful when a couple of them decided to start making a family!
While we are all missing Cape Town, our friends and colleagues are missing you!  In the words of this Cape Town tourism video, Cape Town is worth waiting for.