Africa offers a treasure chest of excitement, adventure and learning for the entire family.  As we have all
discovered first-hand, a safari provides families a unique opportunity to discover and share in a new experience together.  It's often described by our clients as the best holiday they have ever had.   With many of our family trips also including a visit to Cape Town, we thought it would be helpful to share our recommendations for the best restaurants for families in Cape Town.  These personal family favorites have proven to keep everyone happy!
V&A Waterfront
La Parada, reminiscent of a tapas bar on Barcelona's Las Ramblas, is a welcome addition to the otherwise tourist-trodden V&A Waterfront. The Catalan-style tapas eatery is a double-volume space stylishly decked out with hanging plants, tiled archways, postered walls and accents of wood, exposed brick, marble and tropical wallpaper. The food is delicious. Order lots of plates, and share! If possible, request a table facing the marina for unhindered views of Table Mountain, the buzzy waterway, and passing trade. Note, they don't have views overlooking the Waterfront Harbor.
Camps Bay 
Surfshack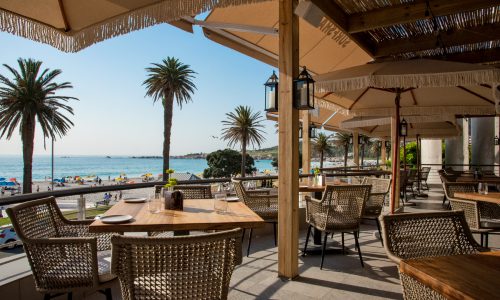 is a great family option featuring an easy-going, contemporary seaside eatery. Perched on a prime location in Camps Bay, Surfshack offers panoramic ocean views with stunning sunsets guaranteed. The menu has a wide selection of diner classics, and it has a vibey buzz and rustic, yet stylish décor. Where possible, we would recommend requesting a table on the expansive terrace to make the most of the killer views!
Green Point 
The trendy and lively, El Burro restaurant is much acclaimed for its décor, service, and its great food. At street level there's the popular Cabrito bar, serving bar meals, but the best (and quietest) place in the restaurant upstairs is on the deep balcony overlooking all the action on Somerset Road. The restaurant is always busy, so book well in advance to avoid disappointment. Whether or not it is authentic Mexican food, as the owners claim, is debatable, but fans consider it the healthiest Mexican food around – a long way from cheesier, greasier Tex-Mex options in town. The wonderful wait staff are consistently excellent, and, curiously, all female – they make for good babysitters as well!
City Bowl
A firm family favorite all-round is Bao Down in Gardens. This Asian-American 28-seater restaurant is teeny and always packed to the brim with regulars looking for flavorsome dishes. We tend to head here for an early dinner before it gets too busy. Former head chef of Chefs Warehouse, Graham Oldfield, has devised a concise menu of six mains, two sides, and a dessert of the day, while his wife Philippa has created a beautifully calm space.
It's no surprise Maria's Greek Café has been around since the 1950s – and you'll resist leaving this authentic Greek-style restaurant, and want to return as soon as you leave. Choose to sit in the buzzy interior or relax in the sunny and spacious courtyard. The entire atmosphere is easy-going – there's no forced association with Greece, allowing you to be subtly transported there by the food alone. It's another family-favorite of ours.
Kloof Street House remains an institution with its Victorian charm, a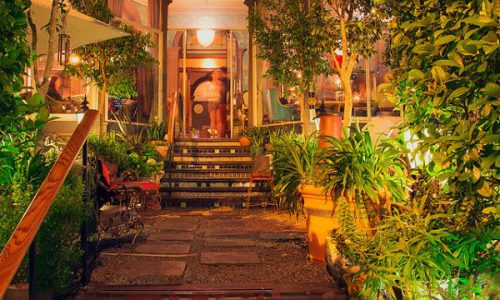 magical fairy-lit garden – and a great option for families, especially with older children as it generally attracts a young, trendy crowd. Shielded from the wind, it's perfect for summer. Comfortable wicker chairs and Victorian detail create a romantic ambience with subtle candelabra lighting and candle-lit tables. The menu will please a variety of palates with small plates, sharing platters, interesting starters and generous main courses.