As many of us are still somewhat house-bound, we thought it would be fun to share some of our favorite online shopping sites with you. For those of you who have been on safari, you'll know that safari camps and conservation groups often support schools and a variety of income-generating projects in their local areas. Many of these non-profit enterprises are feeling the economic impact of COVID-19 as much as the safari lodges are right now.  So if you have a few coins to spare and a bit of time to browse online, here are our recommendations to shop for a cause …
Azizi Life partners with over 30 independent groups in Rwanda, around 500 artisans. The online store offers a range of products skillfully crafted from locally-sourced, natural fibers such as sisal, banana leaf, and forest grasses. Their line of baskets highlights some of the best of Rwandan traditional and modern design. If you are planning a trip to Rwanda, let us know if you would be interested in visiting their various projects. You can spend the day learning traditional cooking, drumming or take a local pottery class. Our clients have had wonderful experiences with Azizi.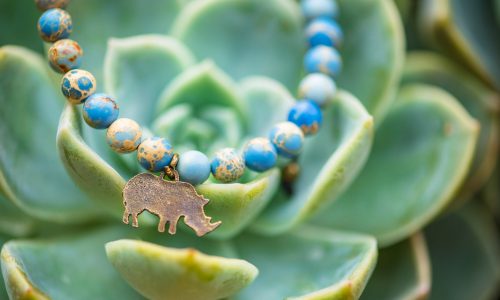 Vanessa met Shannon on safari in South Africa many years ago and has bought countless bracelets ever since! Fifty percent of all sales go directly to wildlife conservation. The bracelets are made from a selection of carefully sourced semi-precious stones, metals including brass and stainless steel and woods and cord. Shannon is also an amazing photographer, so check out some of her prints as well.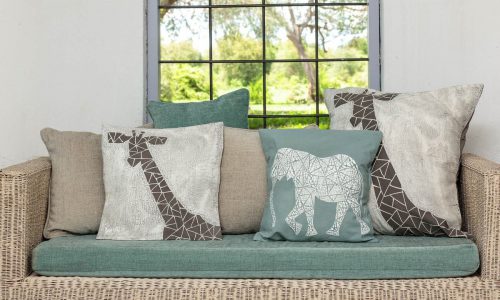 Located in South Luangwa National Park in Zambia, Tribal Textiles is an amazing project employing between 80 and 100 workers and artisans to produce home décor items. Anouk had the pleasure of spending quite a large sum here in October. Her dining table and couch have never looked better! In addition to providing valuable employment, five per cent of all sales are reinvested in local community and conservation initiatives. If you're looking for a touch of Africa around your home, you could really make a difference right now.  Currently, due to Covid-19 production has ceased and the sewing team is busy at home making face masks for healthcare workers. Purchase a bundle of masks to be donated to local communities, clinics and hospitals through Mambwe District Council's COVID-19 Response Team.
Another of Anouk's favorites, she met the lovely founder Kate Wilson at an event in Lusaka and spent some time at the workshop in Mfuwe. Mulberry Mongoose is a workshop in the Zambian bush where craftswomen make jewelry by hand using natural materials, such as wire snares collected by anti-poaching units in the South Luangwa Valley.  On one of Anouk's bush walks in the national park, they did find a snare and made sure it would be delivered to the ladies at Mulberry Mongoose, to turn into something much prettier.
Sheldrick Wildlife Trust was established more than 40 years ago and is best known for its Orphans' Project, the first and most successful elephant orphan rescue and rehabilitation program in the world. All of us at African Portfolio have a constant stable of orphans that we support, including little Nabula pictured here. For as little as $50 a year you can "adopt" an elephant, rhino or giraffe. Their website has pictures and information on specific animals available for adoption. They've also released a really good new video to show you what they do. Your digital adoption includes a personalized adoption certificate, monthly email updates, monthly watercolor by Angela Sheldrick and access to the keepers diary, video and photos. For children currently stuck at home, adopting an elephant is sure to add some excitement to homeschooling.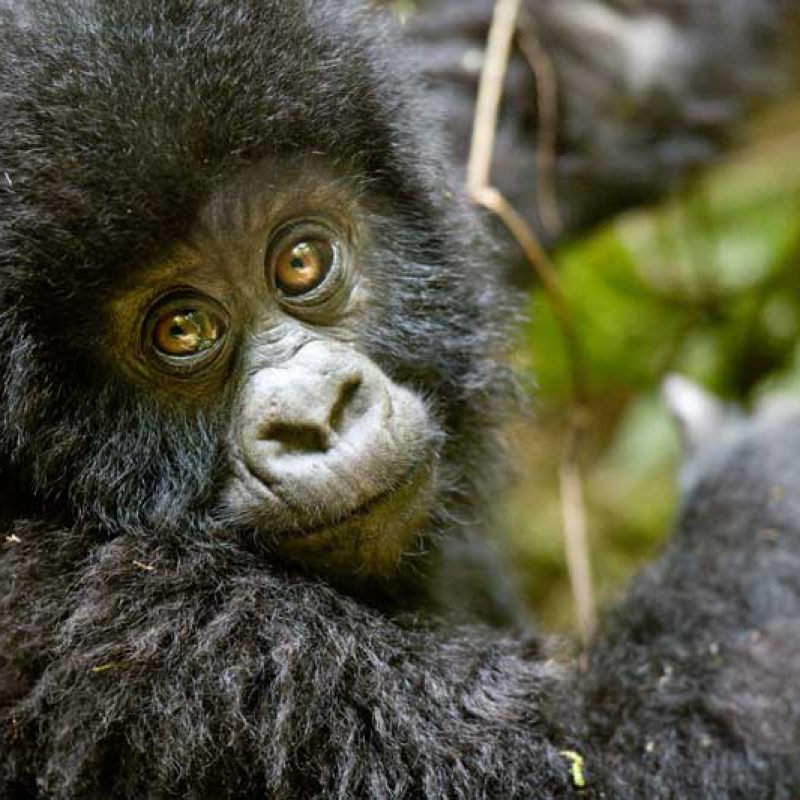 Run by a good friend of ours, Virunga National Park located in the east of the Democratic Republic of Congo is the continent's most biologically diverse protected area. The park is situated in a region deeply impacted by various armed conflicts in the past 20 years. The battle to protect wildlife, support surrounding local communities and provide hydropower to over a million people, is fronted by a group of 700 Rangers who put their lives on the line every day. Buy a t-shirt or sweatshirt and support Virunga National Park in all its efforts to create a better world in a troubled spot. You'll also be helping keep over  a quarter of the world's critically endangered mountain gorillas safe, as well as the eastern lowland gorillas and chimpanzees. The park is currently closed to tourist to protect gorillas from COVID-19, so every dollar will go a long way right now.
Through their extensive work with refugee communities in East Africa, co-founders Anne Sweeney & Talyn Good saw that the most vulnerable refugees often fell through the gaps of protection and became invisible. In 2008, they launched RefuSHE as an innovative solution within the global refugee crisis. Over a decade later, RefuSHE has served thousands of women, girls, children, and infants. One of their social enterprises includes training young women to become artisans. RefuSHE allows these talented young women to show off their skills, and earn an independent living.
Figue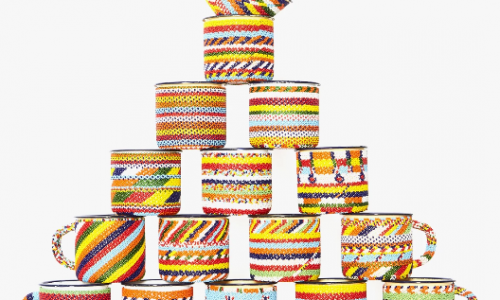 Stephanie Von Watzdorf, is a long time friend of Susan's who has a fashion line called Figue (pronounced 'fig") which is globally inspired and offers globally produced clothing, born out of a passion for travel and desire to share the talents of artisans around the world.  Figue is offering these colorful one-of-a kind hand-beaded by women in the Samburu tribe, a pastoral people living in Northern Kenya.  Beads are a traditional form of currency and have distinct meanings forming a "language" telling the story about the beader, her home, her family and her relationships.  Buying the pieces means supporting Samburu women – the income they receive enables them to be more financially independent and to provide food and support for their families. This beading program is made possible by the Samburu Trust, a nonprofit committed to the preservation and support of the Samburu people and culture.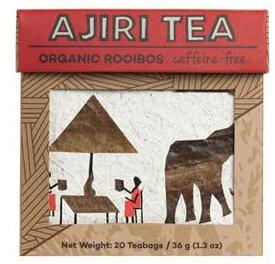 As it says on their website, Ajiri tea is "strong tea with a strong mission." Not only is the tea delicious but each box is a unique work of art as the labels are handmade by women in Western Kenya using natural materials.  With 100% of profits support orphan education, Ajiri Tea Company is now sponsoring 29 orphans in school and is employing four different women's groups.