While Malaria is a mosquito borne illness, only a small percentage of all mosquitos actually carry the potential to do any harm at all. The disease can only be spread by the female Anopheles mosquito, and only from a previously infected person, so it occurs predominantly in densely populated areas with poor sanitation (worldwide). A small intimate high end safari lodge out in the remote wilderness, with few other people around, is just not the right condition for malaria to thrive, so for short term visitors in particular, the odds of getting bitten by a malaria-bearing (female) Anopheles mosquito is really quite minimal.

That said, taking basic precautions is only common sense. There are a myriad of insect repellants to choose from, but covering up after dark is still the best way to avoid being bitten in the first place. (Most mosquitoes are most active between dusk and dawn, when the air is calm). Moreover, modern malaria prophylaxis is highly effective in preventing malaria, and we recommend that you discuss the specifics with your doctor. There are times when the usual preventative measures are not enough. Under some circumstances when traveling with young children or elderly guests, while pregnant (or trying to become pregnant), anti-malarial medication is not recommended.
If that is the case, you will be happy to know that you can still enjoy a stress-free, authentic African safari without apprehension. There are several malaria-free zones in South Africa, and having sampled many lodges in these areas ourselves, we have come up with a selection which we believe offer high quality lodging, exclusive environments, unique activities, some of best guiding on the continent, and a crowd-free experience to boot.
Tswalu is South Arica's largest game reserve covering over 255,000 acres of prime Kalahari wilderness. With over 80 species of mammal, your wildlife sightings from your private, open 4×4 vehicle, are bound to be rewarding. Some of Africa's rarest wildlife, the black rhino, black-mane lion, cheetah and the elusive pangolin, are resident here, as is a habituated colony of meerkat. At Tswalu you can also enjoy walking and riding safaris with highly trained guides. Meals are as flexible as your safari itinerary, so you decide where and when you would like to eat. Enjoy a sundowner in the dunes, or a bush dinner for two and marvel at the incredible night sky and star show on offer. The Motse is Tswalu's main lodge, while Tarkuni, the Oppenheimer family's personal home, is an incomparable choice for families or groups of great friends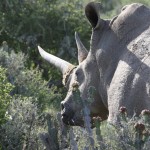 Kwandwe means "Place of the Blue Crane" in Xhosa (South Africa's highly endangered national bird) and this private game reserve is home to a healthy population of these rare beauties. The 54 000 acres of pristine wilderness is also home to the famous Big 5 as well as a diverse number of smaller and more unusual species. Experienced rangers and trackers lead guests on interpretive game-drives in open 4×4 safari vehicles, and while the chances of seeing cheetah, leopard, white and black rhino are excellent, fascinating nocturnal animals such as aardvark, aardwolf, porcupine and bat-eared fox make for very exciting night drives. Four Relais & Chateaux accredited lodges provide a variety of possibilities: Great Fish River Lodge is our first choice for honeymooners, while Ecca Lodge caters particularly well to families with young children. Melton Manor and Uplands Homestead are sole use villas, each with their own private staff, trackers and guides ideal for larger families or groups of friends looking for their exclusive use.

Set in the picturesque mountain and sea landscape of the Hermanus area along the Cape South Coast, the private 2,500 hectare Grootbos Nature Reserve is home to a unique flora and fauna, and at the cutting edge of conservation. Winning worldwide acclaim for its conservation and social responsibility programs, Grootbos employs specialist guides with a passion for the outdoors and sharing their knowledge. Land based whale watching, archeological cave excursions, beach picnics, flower safaris, birding expeditions, social responsibility tours, and horse riding are all included when staying at Forest or Garden Lodge. This is also your chance to look for the marine big five (whales, sharks, seals, penguins and dolphins) from boat excursions to Dyer Island, shark cage diving in Gansbaai, or even scenic flights (at an additional cost).
For more information and a customized itinerary including some or all of these spectacular options, contact one of us to make your malaria-free dreams of Africa come true!
Read More: Staying Healthy on Safari