From the welcome drink on arrival at camp, to the Amarula night cap around the fire, enjoy our recipes and tips to savor your safari memories.
The Welcome Drink – this is a lovely tradition that the entire AP team thinks should be adopted at home. On arrival at camp you are usually welcomed with a warm towel and a welcome drink.  This refreshing, generally non-alcoholic beverage is infused with fresh ingredients and always delicious. Think ginger and lime infused mineral water, grenadine and orange juice (looks like a sunrise),  or passion fruit citrus lemonade, to name a few!  Recreating that welcome drink at home can be done by raiding your fridge for fresh ingredients.  Here's Victoria's favorite…
Lime/Mint and Elderflower Refresher
½ fresh lime
Large sprig of fresh mint
Elderflower syrup (if you don't have this, it can be substituted with a simple sugar syrup OR St Germaine liqueur)
Seltzer
Muddle together the lime and fresh mint, add a tablespoon or two of elderflower syrup, ice  and top off with seltzer. For fun use a flavoured seltzer OR if it's happy hour substitute the seltzer with some prosecco!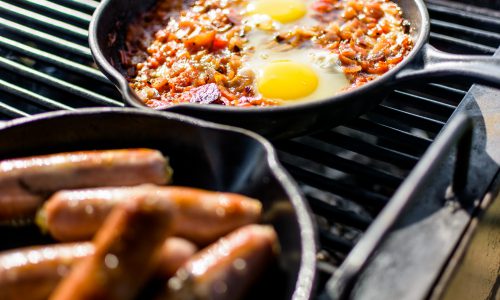 Breakfast/Brunch – after a pre-dawn coffee/tea and rusk, and an early morning game drive you are usually very hungry and ready for a hearty brunch. This may take place back at camp OR out in the bush preferably overlooking a lovely river with hippos frolicking about.  It is a magical feeling, after witnessing a morning hunt by a pride of lions or watching a herd of elephants drink from a sunlit river, to round a corner and come upon a breakfast tableau.
Diane was reminded of what breakfast on safari was like some 30 years ago.  Camping on the banks of the Zambezi River was very basic – but I loved that all our meals were cooked entirely over an open fire.  First the slabs of bacon were fried up, then more cooking oil was added to the pan, so that the eggs were literally deep fried.  The toast was grilled in the same pan, before it was then slathered with butter.  Fortunately, there are somewhat healthier options today!  Here are a few of our local favorites.
Savoury Bread and Butter Pudding
8 slices of bread, crusts removed
10 eggs
1 tsp chopped fresh parsley
2 c milk
1 c of chopped bacon, sausages, salmon, potatoes, veggies, e.g. perfect way to use up fridge leftovers
2 onions, chopped and fried until soft
1/2 c grated cheddar cheese
Whisk eggs and milk together.  Season and add herbs.  Dip bread slices into milk mixture. Inter-layer in baking dish with bacon, sausages, salmon, onion, potato.  Pour the excess milk and egg mix over the top and cover with a layer of cheese.  Bake in a 300C oven for 15 min and flash under the grill if desired.
Mealie Bread 
3 eggs
1 c cake flour
1 tbsp baking powder
1 c grated cheese
1 onion, peeled and grated or very finely chopped
2 c whole kernel corn (frozen or canned is fine)
Preheat the oven to 350C and line a loaf tin with baking paper.  Mix all the ingredients in a bowl, add a generous pinch of salt and freshly ground black pepper. Pour into the loaf tin and bake for 40-50 minutes until the loaf is golden and a tester/sharp knife comes out clean.  Serve with bacon and maple syrup, spread with cream cheese, hummus or just plain butter.
Lunch – midday on safari is the time to relax and enjoy the camp or lodge facilities.  Armchair game viewing from the main lodge area or your tent can be very rewarding especially is some if the "local wildlife" ambles by or flies in for a camp visit. Many will offer a buffet style option with lots of fresh salad, fruit and vegetables or, in the winter months, homemade soup, pies and freshly made bread! Vanessa's parents run a pie (pasty) shop in Michigan, and bake delicious traditional South African meat pies and much more – check it out!
Zambezi Bream Fishcakes
1 lb bream (tilapia) fillets, flaked
3 small sweet potatoes
1 tsp chopped parsley and/or chives
1/2 onion, finely chopped
2 large eggs, beaten
1/2 c flour
1/4 c breadcrumbs
Salt & Pepper to taste
Boil the sweet potatoes for 15 minutes until soft and easy to mash Mix fish, mashed potatoes, parsley, chives, salt and pepper together.   Form into fishcakes.  Dip first in flour, then in the beaten egg. Coat with the breadcrumbs.  Fry in a little vegetable oil until crispy.  If you want to jazz it up a bit, mix 1/2 c mayo with 1 tbsp horseradish, 1 tbsp Dijon mustard, 2 tsps chopped parsley/dives and 1 tsp lemon zest.  Serve on the side.
The Sundowner – Is there any moment as iconic as the African sundowner – no game drive is complete without this magical moment.  The guides are wonderful at surprising their guests and finding a special spot to stop and enjoy a sense of being.  From seemingly nowhere, they conjure up a selection of snacks, including nuts, chips, dried fruit and biltong, and a selection of everyone's favorite beverages. You can go with a traditional gin and tonic, but if in Kenya or Tanzania, we highly recommend Susan's favorite called Dawa. Dawa means medicine in Kiswahili and we all need our medicine these days …
Dawa Recipe
2 teaspoons white sugar or 1 tablespoon brown sugar
2 ounces vodka
Crushed ice cube
1 whole lime, quartered, with skin on
3/4 cup of lime juice
1 Dawa stick (see below for substitutions), twisted in creamed honey, or 2 tablespoons of honey
Put lime and sugar into a whiskey tumbler. Crush limes slightly, add ice, pour in the vodka, and add lime juice. Twist a Dawa stick (or any honey stick) into some honey and add the stick to the drink. Muddle limes with Dawa or honey stick. The more you crush the limes into the mixture and stir with the honey stick, the sweeter your Dawa will taste.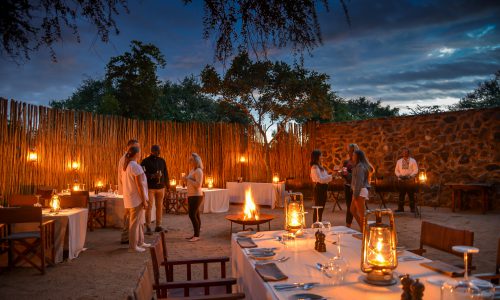 Dinner – this is a more leisurely affair, with multiple courses. In southern Africa a "Boma" dinner is popular, a communal affair around a "Braai" – the local term for a barbeque.  As with all meals there is always a vegetarian option (we make properties well aware of all special dietary requirements in advance) and a scrumptious dessert, such as South Africa's classic melktart, here's Vanessa's recipe…
Vanessa's Melktart Recipe
1/2 gal full cream milk
12 oz sugar
12 eggs
Pinch salt
1 oz vanilla essence
4 oz butter
3.5 oz. corn starch
Place milk and butter in a double boiler over hot water.  Stir in the sugar and salt.  Wait for a whisp of steam.  Then add beaten egg and corn starch plus 1 oz vanilla essence.   Wait until the mixture thickens.  Pour into pre-cooked pastry shell, cool to room temperate and chill in the fridge.
By the fire … no evening is complete on safari without time around the fire pit, enjoying a final nightcap. This is the time to try a sip of Africa's famous Amarula or the decadent and delicious Dom Pedro …
2 c vanilla ice cream
4 fl oz heavy cream
6 fl oz Amarula
grated chocolate, for garnishing
Put all the ingredients in a blender and blend until smooth.  Pour into glasses and sprinkle the chocolate on top.  Serve immediately and enjoy!