Remarkably it has been 6 years since I previously stayed at  Singita Pamushana Lodge, located in a private reserve in southeastern lowveld of Zimbabwe.  Invited for the weekend to celebrate a friend's birthday, I jumped at the chance for a return visit.  Having undergone a complete renovation several years ago, the lodge is even more stylish and beautiful with updated room decor and expansive dining, deck and lounge areas.  It was so reassuring to be hosted once again by Jason Turner, whose expert management results in attentive, yet fun and friendly service.    My visit was every bit as fantastic as I remembered.  The lodge has clearly gone from strength to strength in all aspects of the experience they deliver.   I am already plotting a reason to return!
The Safari Experience …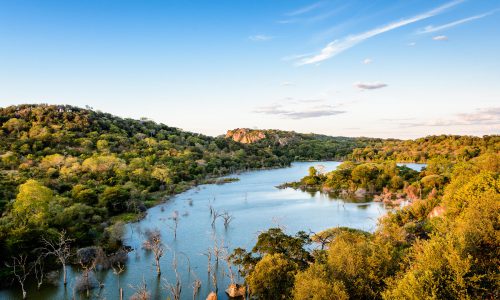 There are so many superlatives to describe the wildlife experience at Pamushana, yet nothing surpasses the spectacular scenery and sheer grandeur of this wilderness paradise. It is truly one of the most beautiful places on earth.  The diversity of the landscape and the variety of eco-systems within the Malilangwe Reserve makes Pamushana an extraordinarily unique and compelling safari experience.   Can you imagine a more magnificent view to start your day?   This corner of the country has had an above average rainfall this year so the bush was still quite green and thickly overgrown making animal sightings a bit more challenging.  However, our tenured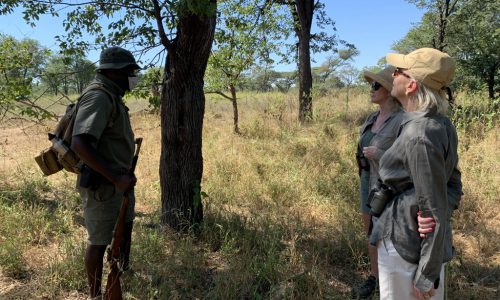 guide Tengwe (Mr. T), upheld the legendary tradition of Zimbabwe trained professional guides, with his exceptional knowledge of wildlife behavior, ability to read and interpret our surroundings to find the animals, and his eagerness to share interesting insights and tales of his safari experiences.  How's this for a checklist of sightings: nyala, tons of giraffe, impala, Lichtenstein's hartebeest, wildebeest, buffalo, kudu, elephant, sable, black backed jackals, rock dassies, 8 white rhino, hippo and lion, of course.   We enjoyed day and night game drives, walking safaris (nothing compares to the exhilaration of watching big game on foot) and a sunset cruise on the river.   The service was friendly, flexible and flawless!   My recommendation: Treat yourself to a glorious week on safari at Pamushana.   This is a very special place that you will be grateful you have taken the time to fully appreciate.  Read further for how your visit is also contributing to significant conservation efforts as well as community projects providing life sustaining support to the local people.  It takes a substantial investment (read millions of dollars) to create and sustain a wildlife environment and safari experience of the caliber that Singita Pamushana offers — and that is what your safari visit is supporting.
More about Singita Pamushana …
Quite coincidentally on both my previous visit in June 2015 and again in May 2021, the Malilangwe Wildlife Trust was engaged in the relocation of white rhino for conservation purposes.  In 2015, 10 white rhino were translocated to Chief's Island in the Okavango Delta, Botswana and currently 8 white rhino are in the process of being moved to Gona-re-zhou National Park as part of a trans-frontier parks effort to re-introduce rhino to the area.   It is an incredibly complex, detailed, risky, labor intensive operation and I found it so inspirational to even be remotely involved in the effort.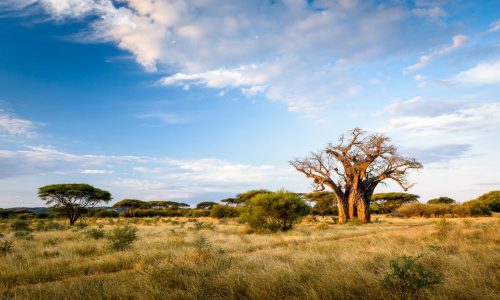 Singita Pamushana Lodge is the ecotourism arm of a 130,000 acre reserve, and its role is to help foster the sustainability of the wildlife and broader ecology of the region, while allowing guests to share in the magic of the lodge and the Malilangwe Wildlife Reserve.  Singita manages the lodge on behalf of the trust and revenue from the lodge helps to sustain the conservation and community work in the area, allowing each guest who visits Singita Pamushana to make a positive impact on this incredibly beautiful land and the people who live here. This Zimbabwean based and managed trust was set up to develop a blueprint for creating harmony between conservation initiatives and community development in villages that neighbor wildlife areas.  The initiatives in place in the area (including feeding some 25,000 local people) have met with great success and each guest who visits Pamushana makes a positive impact on this incredibly beautiful land and dynamic community.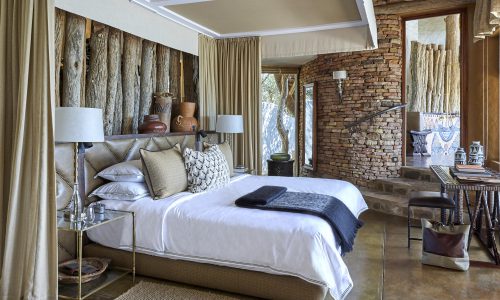 Besides open vehicle game drives, guests can also enjoy sunset cruises on the dam, fishing, excursions to rock art sites and bush walks accompanied by an experienced guide. Each intimate suite offers every conceivable convenience, as well as en-suite bathrooms with indoor & outdoor showers, air conditioning & ceiling fans, fireplaces, private decks, lounge areas, mini bars, private pools, in room safe, and internet connectivity.  The communal area of Pamushana Lodge consists of an indoor dining room, several teak deck dining and bar areas, a library, an open-air lounge, a wine cellar, two heated pools, and a Jacuzzi all overlooking Malilangwe dam and the nearby sandstone hills. Meals are served either in the outdoor dining room, on the deck outside, or in the bush. The lodge also offers a Spa and Yoga room.
Can we tempt you to book a safari to Singita Pamushana?  Give us a call today …