It's that time of year when we pull out the Amarula Coffee Surprise and treat ourselves to a little cocktail. Some of us are lucky enough to be heading south for Christmas in Africa complete with blue skies and sunshine, while the rest of us will hold the fort in freezing Connecticut.
Christmas is celebrated throughout South Africa, a little like here in the US. There are lots of different religions and cultures, but fake snow and (sweaty) Santas can be seen everywhere. Christmas day is a national holiday, and the 26th of December is too. That's thanks to the British, and it's called "Boxing Day".
Christmas Eve is a time for caroling, and the churches will be filled to the brim. Christmas day is usually spent having lunch outside with paper hats and crackers. Meats are roasted and families spend the day together. For those with little money, a common Christmas gift for the children is a brand new school uniform. The school year starts in January in South Africa, after a long summer holiday.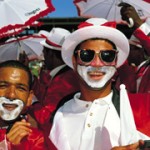 New Year's Eve is widely celebrated in the usual fashion. Nightclubs, bars and restaurants will all have special events to welcome in 2011. On January 1st, Cape Town enjoys a colorful Minstrel Carnival – "Kaapse Klopse", with parades and bands.
We'd also like to take this opportunity to wish you all the best for the festive season and a very Happy New Year. Or as our South African friends would say 'Voorspoedige nuwe jaar" … but only try and pronounce that in private.