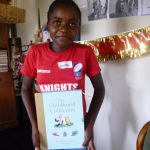 We don't often talk about the charities we support because we don't feel it's necessary to saddle you with our philosophies and dreams for a better Africa. But as we work to make your safari dreams come to life, we are very cognizant of the impact our business has on the everyday lives of ordinary people who work on the ground. The tourism industry is a major provider of jobs and services throughout Africa, often in remote areas where residents would otherwise struggle to find employment opportunities. It has been our privilege to work in this industry and to be motivated by constantly striving to improve our relationships with our friends and colleagues all over Africa. We have also gone one step further in supporting community efforts in education in Harare, a city Diane (owner of African Portfolio) calls home for 6 months of every year.
Kasipiti is the name of the organization Diane founded in 2011. Kasipiti roughly translated means "renewal" or "spring growth" in Shona (one of Zimbabwe's main languages). We previously wrote (Read more …) about our efforts to provide targeted sponsorship of children with whom we could follow up with personally, in the hopes that we could make a difference in even a few of their lives. Our objective has been to help families meet the ever-increasing costs of tuition, school fees, books, uniforms, transportation – knowing that education is the key to creating opportunities to becoming self-supporting. Kasipiti now sponsors the education of dozens of young children and teens.  At the conclusion of what has been African Portfolio's best year yet, we wanted to thank all of our valued clients for contributing to our success and to share with you our excitement at how well many of our students are doing.
Here are Kasipiti's best achievers: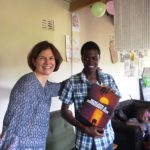 Lashwid Sande – Has consistently been an outstanding scholar attending the ZRP (Zimbabwe Republic Police) academic school in Hatcliffe. His hard work, dedication and commitment to his studies has paid off. He recently won top prize as the best biology student in the country! He is currently waiting for A level results and has plans to study medicine at the University of Zimbabwe. A quiet, unassuming, motivated young man, he continues to be a role model for his peers.
Anyway John – Despite losing vision in one eye, he has excelled in sport as well as in the class room (placed 7th out of 54), which has resulted being awarded a scholarship to go from Hatcliffe 1 to Prince Edward school. His forte is the 1500 meter race,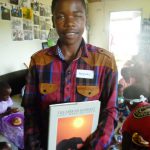 where he leaves all other competitors in the dust. This is an incredible accomplishment for Anyway and we are immensely proud of him and look forward to him distinguishing himself at Prince Edward next year.
Chipo Sosa – Has overcome personal tragedy losing both her mother and young sister to AIDs. Interested from an early age in pursuing a career in nursing, she has just received a first grade pass in nursing with a special certificate for care-giving. Her first attachment was at the army hospital, which is not for the faint-hearted. It's certainly a testament to how hard-working, dedicated and industrious she is, which is so very gratifying to us all. She just completed an internship at the Vainona Red Cross and is now looking forward to her next assignment. Chipo is a lovely, inspirational young woman who has taken on the role of caring for her father and remaining young sister Nashily, while she also giving back to her community.
Noster Binton – Has one more year at Hatcliffe 1 junior school, where she was chosen as prefect (senior student) for the past two years. She produces consistently outstanding school reports (she is 4th out of 56 in her class), and she has also performed exceptionally well on the girls' rug
by team. She was recently invited to travel to Bulawayo to play in an all country tournament — and came back with a trophy.   Way to go Noster!!
Cleopas, Ignatius and Thembani are our three high school graduates who have gone on to pursue careers as tradesmen. They have just completed their second year (of a four year program) at Harare Polytechnic in auto mechanics. The program director has reported that they are all wonderful students and have demonstrated a genuine aptitude for the trade.  Thembani has also gotten his driver's license, which is a 'big deal' in this part of the world ~ so well done to him. All three young men have been selected for attachments (apprenticeships) in order to get the practical experience they need to advance to the next level of their studies.  Having the skills to be self-supporting is so critical to breaking the cycle of poverty and dependence and is paramount to what we are trying to achieve.
Special thanks and an abundance of gratitude must go to Bonny Woodman, who has worked tirelessly for decades to enrich, uplift and provide opportunity to those in need. For many years she was the director of the Special Olympics program in Zimbabwe as well as numerous other local government aid organizations.   We are now so fortunate to have her helping us to help others.   We could not do any of this without her dedication and support.
Last weekend we threw a Christmas party at the farm to celebrate all our students and give them a chance to shine. They each had an opportunity to stand up and talk about their accomplishments and received well deserved applause, recognition and prizes for their achievements. We then treated them to a feast of Christmas treats, which they thoroughly enjoyed. And since no party is complete without music and dancing, there was plenty of opportunity to show off your stuff. While the male teenagers were a bit shy, the youngsters did not hold back!

Our goal at
African Portfolio
is to create an unmatched, personalized travel experience for every client, on every trip. If our safari has been a life-changing event for you, we know how you feel. If your trip with us has moved you to help others change their lives for the better, we can't be more proud. If we have helped create memories that stay with you for a lifetime because your trip was so much fun, that's great. No other baggage required.